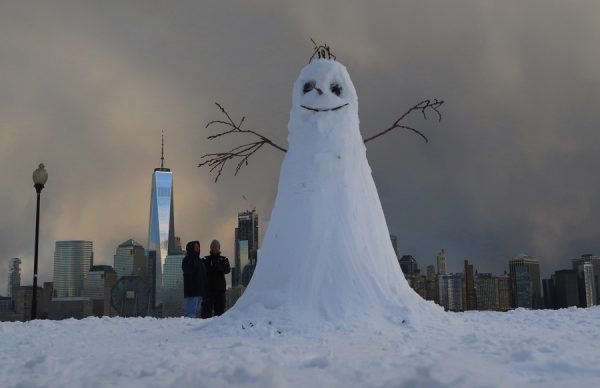 1.13 Rep. John Lewis: "I don't see thispresident-elect as a legitimate president. I think the Russians participated in helping this man get elected. And they helped destroy the candidacy of Hillary Clinton."
released by "Intelligence" even knowing there is no proof, and never will be. My people will have a full report on hacking within 90 days!

— Donald J. Trump (@realDonaldTrump) January 13, 2017

"Totally made up facts by sleazebag political operatives, both Democrats and Republicans – FAKE NEWS! Russia says nothing exists," Trump said in a series of posts on Twitter.
"Probably released by 'Intelligence' even knowing there is no proof, and never will be," he said.
Totally made up facts by sleazebag political operatives, both Democrats and Republicans – FAKE NEWS! Russia says nothing exists. Probably…

— Donald J. Trump (@realDonaldTrump) January 13, 2017

1.13 The Atlantic: Kompromat is a Russian squishing together of two words: "compromising material," which Americans refer to as "blackmail." But kompromat is different in that it is often coupled with what is called "black PR"—for example, Dorenko showing the video on his popular television show, artfully stringing it out, and bashing his viewers over the head with questions like, "Is lying something inherent to prosecutors or is it something unusual?" Or using Wikileaks and Kremlin-owned news sites to pound Hillary Clinton using the hacked contents of the DNC servers or John Podesta's emails.
1.12 Michael Gerson in the Washington Post: On the first day of his presidency, Donald Trump will face a serious governing challenge of his own creation. He has promised a tax cut that will, by one estimate, reduce federal revenue by $7 trillion over 10 years. He has promised an infrastructure initiative that may cost an additional trillion. He has promised to rebuild the military. He has effectively promised not to make changes in Social Security and Medicare. And he has promised to move swiftly toward a balanced federal budget. Taken together, these things can't be taken together. Trump has made a series of pledges that can't be reconciled. If he knew this during the campaign, he is cynical. If he is only finding out now, he is benighted. In either case, something has to give.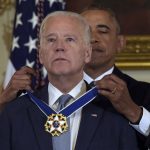 1.12 President Obama bestows the Presidential Medal of Freedom on Vice President Biden.
1.12 Max Boot in the Times: "Mr. Trump continues to exhibit paranoia about American intelligence agencies, he displays a trust verging on gullibility in the mendacious and murderous government of Mr. Putin. "Russia just said," he tweeted, "unverified report paid for by political opponents is 'A COMPLETE AND TOTAL FABRICATION, UTTER NONSENSE.' Very unfair!" Well, yes, of course Russia said that. But why should anyone believe what Mr. Putin says? The fact that Mr. Trump seems to give greater credence to the Kremlin than to United States intelligence agencies is precisely what has set off so much speculation about his real motives in cozying up to Mr. Putin. There is only one way to get to the bottom of this tawdry affair: Appoint a bipartisan, 9/11-style commission to investigate all of the allegations and issue a public report. The former C.I.A. directors Leon E. Panetta and Michael V. Hayden, among other possible choices, would provide instant credibility if they were appointed to lead such a panel. If Mr. Trump is genuinely innocent of any untoward connections with the Kremlin, wouldn't he want a full investigation to clear his name? That he so adamantly opposes any such inquiry speaks volumes. Yet the speculation, which was gaining currency even before the publishing of the dossier by BuzzFeed, isn't going away. The reason is obvious: Mr. Trump appears to be infatuated with the autocrat in the Kremlin. As the Russian dissident and chess champion Garry Kasparov noted: "Trump has criticized: Republicans, Democrats, the pope, U.S. elections, C.I.A., F.B.I., NATO, Meryl Streep. Trump hasn't criticized: Vladimir Putin." The closest Mr. Trump has ever come to directly criticizing Mr. Putin was at his news conference on Wednesday, when, speaking of the hacking (which he admitted for the first time was the work of the Kremlin), he said, "He shouldn't have done it." This was pretty mild censure, however, compared with his scorching suggestion that American spies were employing Nazi-like tactics."
1.12 Richard W. Painter in the Times: if Mr. Trump continues to own the businesses, he will continue to receive payments they earn from dealings with foreign governments. Most if not all of these payments will violate the Emoluments Clause of the Constitution, which expressly forbids anyone in public office from receiving any gifts, salary or profits of any kind from transactions with foreign governments without the consent of Congress. Apart from exceptions already set forth in the Foreign Gifts and Decorations Act, Congress, even though now controlled by Republicans, has shown no appetite for making further exceptions. Absent such consent from Congress, President Trump will be in violation of the Constitution as of next Friday with respect to, among other things, loans from foreign-government-controlled banks, leases of Trump office space to foreign-government-controlled companies, foreign governments and diplomats renting rooms in Trump hotels and any investments that are made alongside foreign sovereign wealth funds. The plan announced on Wednesday does nothing to fix this problem because if President Trump still owns the businesses, or he is the beneficiary of a trust that owns the businesses, he receives the economic benefit — the "emolument" — from all of these transactions.
The only concession that Mr. Trump made on this issue in his news conference was a proposal to donate "profits" made by his hotels from foreign governments to the United States government. He failed to address the fact that foreign government money likely permeates his entire business empire, not just the hotels, and that he has no plan to stop receiving these payments that will become unconstitutional at noon next Friday. Second, apart from a promise not to enter into any "new" deals outside the United States, Mr. Trump's plan does nothing to fix the serious conflicts of interest and global security threats posed by his existing business relationships with politicians and politically connected businessmen around the world. He also does not address his ownership and licensing rights in properties — including the use of the Trump name. Shockingly, the president-elect did not even mention the grave risk posed to the people who live and work in these buildings, which are likely to be prime terrorist targets because they carry the name of the president of the United States.
1.12 Matt Stoller in The Washington Post: Obama can't place the blame for Clinton's poor performance purely on her campaign. On the contrary, the past eight years of policymaking have damaged Democrats at all levels. . . .Two key elements characterized the kind of domestic political economy the administration pursued: The first was the foreclosure crisis and the subsequent bank bailouts. The resulting policy framework of Tim Geithner's Treasury Department was, in effect, a wholesale attack on the American home (the main store of middle-class wealth) in favor of concentrated financial power. The second was the administration's pro-monopoly policies, which crushed the rural areas that in 2016 lost voter turnout and swung to Donald Trump. . .A financial system in collapse has to allocate losses. In this case, big banks and homeowners both experienced losses, and it was up to the Obama administration to decide who should bear those burdens. Typically, such losses would be shared between debtors and creditors, through a deal like the Home Owners Loan Corporation in the 1930s or bankruptcy reform. But the Obama administration took a different approach. Rather than forcing some burden-sharing between banks and homeowners through bankruptcy reform or debt relief, Obama prioritized creditor rights, placing most of the burden on borrowers. . . . Second, Obama's administration let big-bank executives off the hook for their roles in the crisis. Sen. Carl Levin (D-Mich.) referred criminal cases to the Justice Department and was ignored. Whistleblowers from the government and from large banks noted a lack of appetite among prosecutors. In 2012, then-Attorney General Eric Holder ordered prosecutors not to go after mega-bank HSBC for money laundering. Using prosecutorial discretion to not take bank executives to task, while legal, was neither moral nor politically wise; in a 2013 poll, more than half of Americans still said they wanted the bankers behind the crisis punished. But the Obama administration failed to act, and this pattern seems to be continuing. No one, for instance, from Wells Fargo has been indicted for mass fraud in opening fake accounts.
1.11 Frank Bruni in the Times: "A typical Conway television interview, which is a circus of euphemisms, a festival of distractions and a testament to the stamina of a willed smile. She looks cheery when attacking, even cheerier when attacked and absolutely radiant when descending into a bog of half-truths and fictions. It's always sunny on Conway's side of the street. And it's always a landslide when her candidate wins. She describes Trump's victory as a mandate — never mind its narrowness or all that Russian nefariousness — and dismisses his critics by citing their inability to see that heady triumph coming. They had no foresight. Now they have no grounds.
1.10 President Obama: "I am asking you to hold fast to … that idea whispered by slaves and abolitionists; that spirit sung by immigrants and homesteaders and those who marched for justice; that creed reaffirmed by those who planted flags from foreign battlefields to the surface of the moon; a creed at the core of every American whose story is not yet written: Yes, we can. (Applause.) Yes, we did. Yes, we can."
1.10 Washington University ethics expert Kathleen CLARK: I see this as Trump's first attempt to ignore the law, act in violation of the law, and he's going to see if he can get away with it. We have a statute that names the president, that names the son-in-law relationship, that Congress identified a problem and enacted a statute prohibiting a president from hiring a son-in-law. President-elect Trump, in my view, is testing the waters to see if he can get away with violating what I would call this government ethics provision. And whether President-elect Trump gets away with this depends, it seems to me, in part on the public response as well as the congressional response.…We'll see whether President Trump is required to follow the law or not. And so, I think this is enormously significant, because it's an initial test of whether — we've seen as a candidate, Donald Trump has violated norms, and now we're going to see whether he also plans to violate the law
1.10 The Washington Post: Quinnipiac's poll showed his favorable rating rising from 34 percent to 44 percent, that number has dropped back to 37 percent, which is about where it stood for much of the campaign. That's tied for Trump's worst favorable rating in a poll since his election. And a majority — 51 percent — now have an unfavorable view of him. Likewise, the Quinnipiac poll shows a drop in confidence in Trump across the board. Although 59 percent were optimistic about the next four years under Trump in November, today that number is 52 percent. While 41 percent thought he would be a better leader than President Obama, it's now 34 percent. While 52 percent thought he would help the nation's economy, it's now 47 percent. While 40 percent thought his policies would help their personal financial situation, it's now 27 percent. While 53 percent thought he'd take the country in the right direction, it's now 45 percent. There are similar drops in views of his honesty (42 percent to 39 percent), his leadership skills (56 percent to 49 percent), his compassion for average Americans (51 percent to 44 percent), his levelheadedness (38 percent to 33 percent) and his ability to unite the country (47 percent to 40 percent).''
1.10 Jess McKinely in the Times: "There's a certain Willy Loman aspect to Mr. Cuomo: He's liked, but not well liked, even in his home state. A Quinnipiac University poll released last month showed that half of New York voters supported the governor's taking on the policies of Mr. Trump, but 56 percent did not want him to run for president. His approval rating was 49 percent; and only 34 percent did not approve. And while Mr. Cuomo is known for having a savvy political mind, few would rave about his retail political skills. Michael Shnayerson, the author of "The Contender," a 2015 biography of Mr. Cuomo, said that "there isn't a Democrat of his generation who has a better résumé for president than Andrew Cuomo." He cited the governor's experience working for his father's campaigns, a stint as federal housing secretary and a term as New York attorney general. But, he added, Mr. Cuomo's bare-fisted political style also sometimes suggests "a dark, Nixonian character, harsh and vindictive." "Ironically, that's what makes him so fascinating," Mr. Shnayerson said. "He's so unlike the rest of the field. And there are moments, still, when he pounds the progressive pulpit, that you hear his father's voice, and the goose bumps come, and you think, 'Maybe so.'"
1.9 Deshaun Watson, Clemson quarterback, before leading the team on a drive to a last-second touchdown and the National Championship against Alabama: "Let's be legendary."
1.9 Bernie Sanders: " real change never starts from inside the Beltway. It always comes when millions of Americans at the grass-roots level stand up and fight for economic, social, racial and environmental justice. We always win when we stand together. We lose when we are apathetic or allow demagogues to divide us"
1.9 Gov delivers the State of the State address
"groveling" when he totally changed a 16 year old story that he had written in order to make me look bad. Just more very dishonest media!

— Donald J. Trump (@realDonaldTrump) January 9, 2017
Hillary flunky who lost big. For the 100th time, I never "mocked" a disabled reporter (would never do that) but simply showed him…….

— Donald J. Trump (@realDonaldTrump) January 9, 2017
Meryl Streep, one of the most over-rated actresses in Hollywood, doesn't know me but attacked last night at the Golden Globes. She is a…..

— Donald J. Trump (@realDonaldTrump) January 9, 2017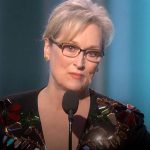 1.8 Meryl Streep at the Golden Globes "There was one performance this year that stunned me," Streep said. "It sank its hooks in my heart. Not because it was good. There was nothing good about it. But it was effective and it did its job. It broke my heart when I saw it and I still can't get it out of my head, because it wasn't in a movie, it was real life." Streep proceeded to argue that Trump's behavior gave "permission" to other people to act the same way."It was that moment when the person asking to sit in the most respected seat in our country imitated a disabled reporter. Someone he outranked in privilege, power and the capacity to fight back. It kind of broke my heart when I saw it. I still can't get it out of my head because it wasn't in a movie. It was real life. And this instinct to humiliate, when it's modeled by someone in the public platform, by someone powerful, it filters down into everybody's life, because it kind of gives permission for other people to do the same thing," the actress said. Disrespect invites disrespect. Violence incites violence."
1.7 Nat Hentoff dies at 91
Tweet of the year so far!! LOL@realDonaldTrump #Trump@VicenteFoxQue. pic.twitter.com/vj0vlu4Rrm

— Raging Bull NO TRUMP (@ToDropADime2) January 7, 2017

1.6 Stephen Marche IN THE Los Angeles Times "The greatest modern expression of American satire, Spy magazine, mocked Trump for its entire run. (Spy teased Trump for having small hands long before Marco Rubio did.) Their contempt only aided his manic self-promotion.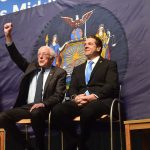 1.3 Governor Andrew M. Cuomo today unveiled the 1st signature proposal of his 2017 agenda: making college tuition-free for New York's middle class families at all SUNY and CUNY two- and four-year colleges. New York's tuition-free college degree program, the Excelsior Scholarship, is the first of its kind in the nation and will help alleviate the crushing burden of student debt while enabling thousands of bright young students to realize their dream of higher education.
1.1 A new law taking effect in France today guarantees employees of organizations with more than 50 workers the "right to disconnect" from technology after business hours.
1.1 Gov opens the Second Avenue Subway