11.29 John McCain on Hilary Clinton in Esquire: ""One of the almost irresistible impulses you have when you lose is to somehow justify why you lost and how you were mistreated: 'I did the right thing! I did!'" The hardest thing to do is to just shut up."What's the f***ing point? Keep the fight up? History will judge that campaign, and it's always a period of time before they do. You've got to move on. This is Hillary's problem right now: She doesn't have anything to do."
11.29 Geraldo Rivera tweet: "Sad about @MLauer great guy, highly skilled & empathetic w guests & a real gentleman to my family & me. News is a flirty business & it seems like current epidemic of #SexHarassmentAllegations may be criminalizing courtship & conflating it w predation. What about #GarrisonKeillor?
11.29 The Atlantic: Amazon seems to be typical of the sort of organization that researchers have found to be particularly prone to sexual harassment and abuse: male dominated, super hierarchical, and forgiving when it comes to bad behavior.
11.29 David Ignatius in Washington Post: "China's rise has been so rapid yet gentle in tone that it's easy to miss how fast Beijing has expanded its ability to project power. Trump's 'America first' strategy has facilitated China's buildup, unintentionally. China is building [and buying] the infrastructure of power," including ports around the Indian Ocean and in Europe, and "rail lines to Europe and every part of Asia, allowing them to bypass U.S.-controlled sea lanes. There's an eerie sense in today's world that China is racing to capture the commanding heights of technology and trade. Meanwhile, under the banner of 'America first,' the Trump administration is protecting coal-mining jobs and questioning climate science."
11.29 Axios: A McKinsey Global Institute study says that massive government intervention will be required to hold societies together amid labor disruption over the next 13 years "It's a Marshall Plan size of task."
11.29 Paul Waldman in the Post: The first and most important thing to keep in mind is that if a Republican senator says he might not vote for the bill because he's terribly concerned about the deficit, he is lying. Deficits are something Republicans pretend to care about when there's a Democratic president or when they're trying to slash the safety net, but it's an act. Not a single Republican will vote against this bill because it raises the deficit. Not one. In the end they'll all decide cutting taxes for corporations and the wealthy is just too darn important, and anyway the tax cuts will create such an explosion of growth that we won't have to worry about the deficit anyway.
11.29 Matt Lauer fired
11.29 Greg Sargent in the Washington Post: The brazenness of it is the whole point — his utter shamelessness itself is meant to achieve his goal. In any given case, Trump is not trying to persuade anyone of anything as much as he is trying to render reality irrelevant, and reduce the pursuit of agreement on it to just another part of the circus. He's asserting a species of power — the power to evade constraints normally imposed by empirically verifiable facts, by expectations of consistency, and even by what reasoned inquiry deems merely credible. The more brazen or shameless, the more potent is the assertion of power.
11.29 Garrison Keillor dumped by MPR
11.28 Katie Baker in The Ringer: "An unfathomable implementation of a shaky idea? Check. (Sure, they gave Manning the option to still "start" the game to continue his ironman streak, the NFL's second-longest, but imagine the ridicule if he had said yes!) Throwing their quarterback(s) unfairly and abruptly to the media wolves? Check. (When the dust settles, I may actually feel worse for Geno than Eli amid all of this.) And giving Mike Francesa the kind of material that causes him to (a) go into full-on growl mode; (b) exhale loudly through his nose to punctuate a point; (c) use the phrases "this clown" and "dey don't have da guts" more than once; and (d) take calls from angry listeners describing the Giants' coach as a "slick-haired ratface"? Check, check, check, and check. (The only thing missing was a "Mista Tannenbaum.") On Twitter, the reaction to this news ran the understandable gamut from dispassionate to meme-y. ESPN tweeted a set of wild statistics about Manning's longevity compared with the quarterbacks of other NFL teams. Former Giant and current NFL Network analyst Shaun O'Hara described an "ambrosia of emotions." A Twitter trending topics screenshot was posted with "North Korea" sandwiched at no. 2 between "Eli Manning" and "Geno." The New York Daily News offered a fresh perspective. Bomani Jones summed up the way Giants fans feel about Manning as accurately as I've ever seen. As all this news rolled in, I first evaluated my own well-being, because you can't help others unless you've put on your own oxygen mask first, and then I unironically called Eli a "man of principle" in Ringer Slack, posted the Carole King "Now and Forever" music video, and then, fingers trembling, swiped through my iPhone to get to the radio app I use to stream WFAN. As I hoped he would, with the stakes at their highest, Francesa delivered as if he were wearing a Giants jersey and facing Tom Brady in the Super Bowl. He was part therapist, letting biased listeners get their rawest feelings out. . . . And he lived up to his longstanding reputation as a true maestro of the sports radio rant, getting the most out of every crescendo and fermata, milking the word "disgraceful" as if it were a haunting flute solo. If there was a silver lining to this dark day in Giants history, it was that it took place during Francesa's final days on the air. "I'm so glad this happened now," one caller said, sounding emotional, "so that you can process this over the next few weeks with the fans." Hearing that heartfelt sentiment is when it fully struck me: The end of an era that I am really going to mourn as 2017 comes to a blessed end isn't the Giants' no. 10, but New York's Numbah One."
11.28 Giants end Eli Manning's consecutive start streak at 210
11.27 Joe Nocera in Ad Age: If you joined Time Inc. when I did, in the mid-1990s, the glorious excesses that once marked the company were a thing of the past. But you heard the stories. The great Fortune writer Carol Loomis used to recall how the male writers would always travel with their female research assistants, who would take notes during interviews, transcribe them and do the heavy lifting while the writer was out on the town. Dan Okrent, a former editor of Life magazine, had a raft of memorable expense-account stories he told and retold. John Podhoretz, who worked at Time magazine three decades ago, once wrote a piece recalling the time Henry Grunwald, Time's editor, took a helicopter from Manhattan to White Plains, 25 miles away. There were carts serving drinks in the late afternoon, dinners at the most expensive restaurants in New York and limousines to take editors home at night. Which is not to say that the journalists of my era were suffering, at least not during the first five years I was there. The period from 1995 to 2000 (I left in 2004) was print advertising's last hurrah. The first internet boom was roaring and the money just poured in. At Fortune, where I worked, the managing editor, John Huey, would sometimes begin the morning meeting by saying that we had just gotten 15 more pages of advertising and did anyone have any ideas about how to add some more stories? At its peak in the late 1990s and early 2000s, Fortune was making, pre-tax, upwards of $110 million—we even spent $5 million one year taking the entire staff to Hawaii. Time magazine made in the $100 million range, People made over $400 million, and Time Inc. had earnings that came in a hair under $1 billion. The idea that it would all come to an end one day was unimaginable. But that day has come. On Sunday evening, Meredith Corp., a magazine company based in Des Moines, Iowa, announced that it was buying Time Inc. It will pay $1.85 billion in cash and assume close to $1 billion in Time Inc. debt.
11.27 Meredith agreed to acquire Time Inc. for $2.8 billion
11.27 BBC: "Prince Harry is to marry his American actress girlfriend Meghan Markle. Harry, fifth in line to the throne, will marry Ms. Markle next spring and will live at Nottingham Cottage at Kensington Palace in London. The couple, who have been dating since the summer of 2016, secretly got engaged earlier this month."
11.25 In college basketball: Using only three players for the final 10:41 of the second half, the Crimson Tide outscore the Golden Gophers 30-22 but lose the game 89-84. Freshman Collin Sexton had 40 points for the Crimson Tide
11.21 More powerful earthquakes could rock the globe in 2018 because of infinitesimal changes in the speed of the Earth's rotation, scientists warn. A minuscule slowing of the Earth's rotation over years, which can extend the length of a day by a millisecond or more, appears to be linked to an increase in major quakes.
11.21 Embattled Zimbabwe President Robert Mugabe has resigned
11.21 Joshua Bernstein on Buzzfeed: "National security adviser H.R. McMaster reportedly mocked Trump's intelligence during a private dinner with the CEO of Oracle, saying the president has the intelligence of a "kindergartner." "Over a July dinner with Oracle CEO Safra Catz — who has been mentioned as a candidate for several potential administration jobs — McMaster bluntly trashed his boss, said the sources, four of whom [said] they heard about the exchange directly from Catz. [McMaster] dismissed the president variously as an 'idiot' and a 'dope' with the intelligence of a 'kindergartner' … A sixth source who was not familiar with the details of the dinner [said] McMaster had made similarly derogatory comments about Trump's intelligence to him in private, including that the president lacked the necessary brainpower to understand the matters before the National Security Council."
11.21 CBS fires Rose
11.21 Charlie Rose, Glenn Thrush, John Conyers join Al Franken et all in the pillory
11.20 Olivier Vernon of the Giants: "At the end of the day, there's a First Amendment right as an American citizen. You have a right to protest peacefully. Protests aren't supposed to be comfortable."
11.20 Charles Manson dies at 83
11.19 Tom Brady becomes the first NFL quarterback to record a 300 yard passing day in three countries.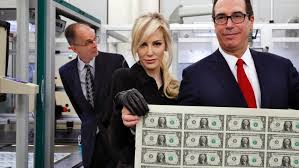 11.18 Dinner at 1050 with Greg and Susan, then onto Murder on the Orient Express
11.18 An Ohio candidate for Governor, Supreme Court justice William O'Neill posted a statement Friday morning on Facebook about what he described as the "national feeding frenzy about sexual indiscretions": "As a candidate for Governor let me save my opponents some research time. In the last fifty years I was sexually intimate with approximately 50 very attractive females. It ranged from a gorgeous blonde who was my first true love and we made passionate love in the hayloft of her parents barn and ended with a drop dead gorgeous red head from Cleveland. Now can we get back to discussing legalizing marijuana and opening the state hospital network to combat the opioid crisis."
11.17 David Von Drehle in the Washington Post: The United States and its allies are under attack. The cyberwar we've feared for a generation is well underway, and we are losing. This is the forest, and the stuff about Russian election meddling, contacts with the Trump campaign, phony Twitter accounts, fake news on Facebook — those things are trees. We've been worried about a massive frontal assault, a work of Internet sabotage that would shut down commerce or choke off the power grid. And with good reason. The recent exploratory raid by Russian hackers on American nuclear facilities reminds us that such threats are real. But we failed to prepare for an attack of great subtlety and strategic nuance. Enemies of the West have hacked our cultural advantages, turning the very things that have made us strong — technological leadership, free speech, the market economy and multi-party government — against us. The attack is ongoing.With each passing week, we learn more. Russia and its sympathizers have cranked up the volume on existing political and cultural divisions in the West, like some psychic version of the Stuxnet hack that caused Iran's nuclear centrifuges to spin so fast they tore themselves to pieces. They've exploited the cutting-edge algorithms of Facebook and Google to feed misinformation to Americans most likely to believe and spread it. They have targeted online ads designed to intensify our hottest culture wars: abortion, guns, sexuality, race. They have partnered with WikiLeaks, the supposed paragon of free speech, to insert propaganda into influential Twitter accounts — including @realDonaldTrump. They have created thousands of phony online identities to add heat to political fever swamps.The genius of this cyberwar is that unwitting Westerners do most of the work. Our eagerness to believe the worst about our political opponents makes us easy marks for fake or distorted "news" from anti-American troll farms. Our media — talk radio, cable news, every variety of digital communication — seek to cull us into like-minded echo chambers. The West has monetized polarization; our enemies have, in turn, weaponized it.
11.16 The Times: "Asked directly if she believed Mr. Clinton should have stepped down at the time, Ms. Gillibrand took a long pause and said, "Yes, I think that is the appropriate response."'
11.16 Michael Gerson in the Washington Post: In all of this, there is a spectacular accumulation of lies. Lies on disclosure forms. Lies at confirmation hearings. Lies on Twitter. Lies in the White House briefing room. Lies to the FBI. Self-protective lies by the attorney general. Blocking and tackling lies by Vice President Pence. This is, with a few exceptions, a group of people for whom truth, political honor, ethics and integrity mean nothing.
11.16 Ron Swoboda
11.16 Al Franken accused of sexual harassment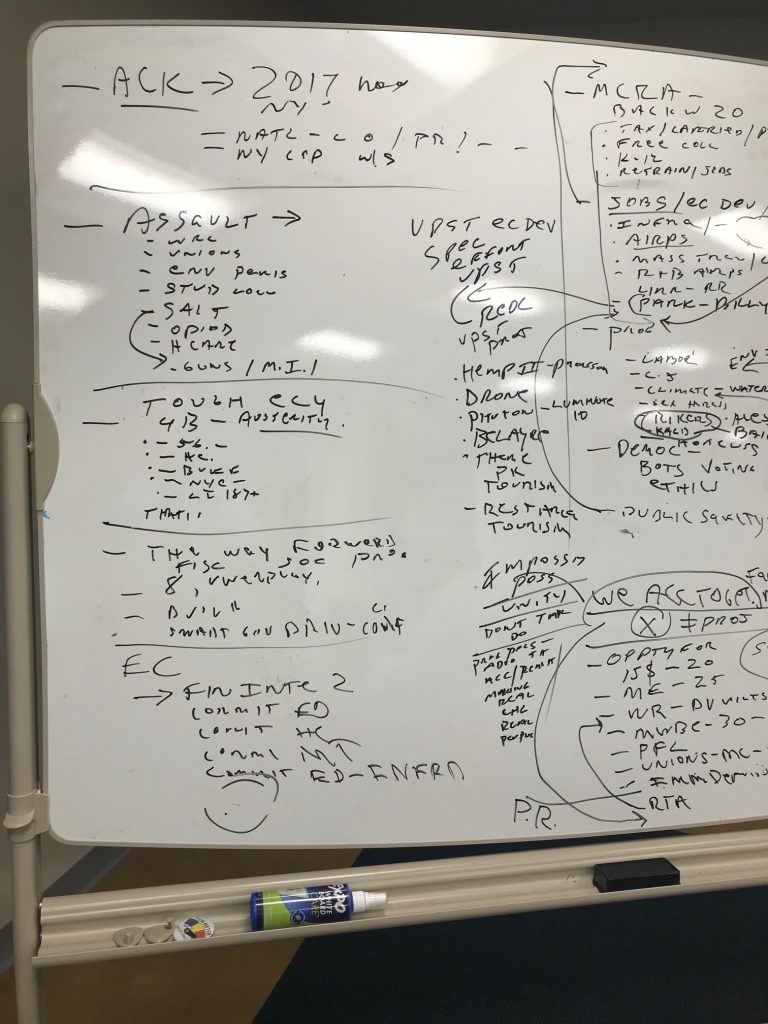 11.15 SOS meeting with the Gov
11.15 Leonardo da Vinci's painting, "Saviour of the World," sold for $450,312,500 Wednesday at auction at Christie's. The price, which includes a buyer's premium, makes it "the most expensive painting ever sold at auction."
11.14 Jim Vanderhei in Axios: "There are lots of reasons American politics went off the rails, but Axios CEO Jim VandeHei breaks out six seminal events in the past 24 years that steered us here: Newt Gingrich, in the early 1990s, weaponized warfare politics in a methodical and sustained way. In tactics and rhetoric, Gingrich ushered in a good-vs.-evil style that persists today. Fox News, created in 1996, televised and monetized this hard-edged combat politics. This created the template for MSNBC to do the same on the left, giving both sides a place to fuel and fund rage 24/7. CNN soon went heavy on politics, all day, making governance a show in need of drama. Facebook and later Twitter, both products of the post-2000 Internet revolution, socialized rage and argument. Now every nut with an opinion could find fans and followers to cheer/egg him or her on. This happened as the middle in politics was officially purged from Congress.John McCain picking Sarah Palin as his running mate in 2008 celebritized rage politics. Until that moment, Republicans typically picked conventional, next-in-line candidates. Palin, made for cable and social media, was the precursor to Trump. Facebook, with command of so much of most voters' time and attention, algorithm-ized rage starting around 2015. The more emotion you felt and sought, the more the newsfeed machine pumped at you. With no one looking, fake news was born and metastasizing. Twitter + Trump, igniting in 2016, habitualized and radicalized the moment-by-moment rage and reaction of politicians, voters and the media. This created more froth and more fog, and resulted in a spike of people who don't believe real news, much less the fake news pulsing through the system.Now, all of this has been institutionalized. No wonder people don't trust, like or believe politicians — or often each other."
11.14 Richard Javad Heydarian in the Washington Post: "During President Donald Trump's first official Asia tour, the precipitous erosion of America's decades-long hegemony in the region has been painfully apparent. This is partially the structural byproduct of the rapid rise of China, which has openly called for a 21 century new regional order of "Asia for Asians." Since 2013, the Asian powerhouse has rolled out an alluring package of development initiatives, which could potentially redraw the economic landscape of the region and beyond. With China emerging as the world's economic engine, it is proactively reclaiming its historical place in the sun. But it is also the byproduct of the tempestuous Trump presidency's devastating impact on American standing in Asia. Both allies and rivals in the region have been perturbed by Trump's "America first," neo-isolationist foreign policy. His midnight tirades on Twitter, constant attacks on the liberal international order and push to dismantle the Trans-Pacific Partnership trade agreement have collectively left America isolated even from some of its closest allies. As an official from one of America's key partners in the region put it to me earlier this year: "Is this how superpowers commit suicide?" It appears the answer is yes."
11.14 Theresa May has accused Moscow of using fake news to undermine democracy in the UK.
11.13 New York Yankees right fielder Aaron Judge was unanimously named the 2017 American League Rookie of the Year.
11.13 GQ names Colin Kapernick Citizen of the Year
11.13 Roy Moore is accused by a fifth woman
11.13 Senate Majority Leader Mitch McConnell, re: Roy Moore: "I believe the women."
11.13 Conservative viewers smash Keurig coffee makers after company pulls ads from "Hannity"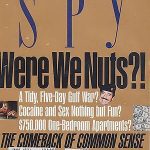 11.13 Liz Smith dies at 94. I always enjoyed her column, never more than when I had written an item that got planted in her space. That happened several times during my early brief career in public relations, but never with greater satisfaction than in 1991, when I was an editor at Spy. The peerless Ted Heller had conjured the spirit of Jack Fine, an old time theatrical agent. So unbelievable was Ted's performance that we put him on the phone and proceeded to prank a bunch of producers of cheesy TV sitcoms by having Fine try to place such clients as Vanessa Redgrave and Robert DeNiro on shows like Full House. The transcripts of these calls became a feature in our March 1991 issue. We loved Jack so much that the following month we killed him, and asked the ladies and gentlemen of show business to mourn one of their own (which he was, non-existent though he may have been.) Liz Smith obliged by running a mournful au revoir: "A sad milestone in the world of show business: Jack Fine, personal manager to such golden greats of Hollywood as Betty Grable, Johnny Weissmuller and Jeff Chandler, passed away recently in Australia, far from his beloved New York. . . .He was known for unflagging optimism, expressed in his famous signature line: "Smile, darling–somewhere it's opening night."
11.13 Anne Applebaum in the Post: The groups that displayed themselves so aggressively in Warsaw on Saturday are not the majority in Poland. They are not even a significant minority. They are a radical group who suddenly feel enabled and encouraged by the new conditions in their country, in Europe and in the world. But even if they don't set the tone for public life, in Warsaw — a city that was destroyed by fascists, where old buildings are still pockmarked by bullet holes from fascist rifles; a city that also now hosts the most ambitious and beautiful Jewish museum in Europe — their new sense of entitlement is indeed shocking.
11.12 E.J. Dionne Jr.in the Post: " The focus on President Trump's political strength among white working-class voters distracts from a truth that may be more important: His rise depended on support from rich conservatives, and his program serves the interests of those who have accumulated enormous wealth. This explains why so few congressional Republicans denounce him, no matter how close he edges toward autocracy, how much bigotry he spreads — or how often he panders to Vladimir Putin and denounces our own intelligence officials, as he did again this weekend. The GOP leadership knows Trump is tilting our economy toward people just like him, the objective they care about most.