11.21 More powerful earthquakes could rock the globe in 2018 because of infinitesimal changes in the speed of the Earth's rotation, scientists warn. A minuscule slowing of the Earth's rotation over years, which can extend the length of a day by a millisecond or more, appears to be linked to an increase in major quakes.
11.21 Embattled Zimbabwe President Robert Mugabe has resigned
11.21 Joshua Bernstein on Buzzfeed: "National security adviser H.R. McMaster reportedly mocked Trump's intelligence during a private dinner with the CEO of Oracle, saying the president has the intelligence of a "kindergartner." "Over a July dinner with Oracle CEO Safra Catz — who has been mentioned as a candidate for several potential administration jobs — McMaster bluntly trashed his boss, said the sources, four of whom [said] they heard about the exchange directly from Catz. [McMaster] dismissed the president variously as an 'idiot' and a 'dope' with the intelligence of a 'kindergartner' … A sixth source who was not familiar with the details of the dinner [said] McMaster had made similarly derogatory comments about Trump's intelligence to him in private, including that the president lacked the necessary brainpower to understand the matters before the National Security Council."
11.21 CBS fires Rose
11.21 Charlie Rose, Glenn Thrush, John Conyers join Al Franken et all in the pillory
11.20 Olivier Vernon of the Giants: "At the end of the day, there's a First Amendment right as an American citizen. You have a right to protest peacefully. Protests aren't supposed to be comfortable."
11.16 Ron Swoboda
11.16 Al Franken accused of sexual harassment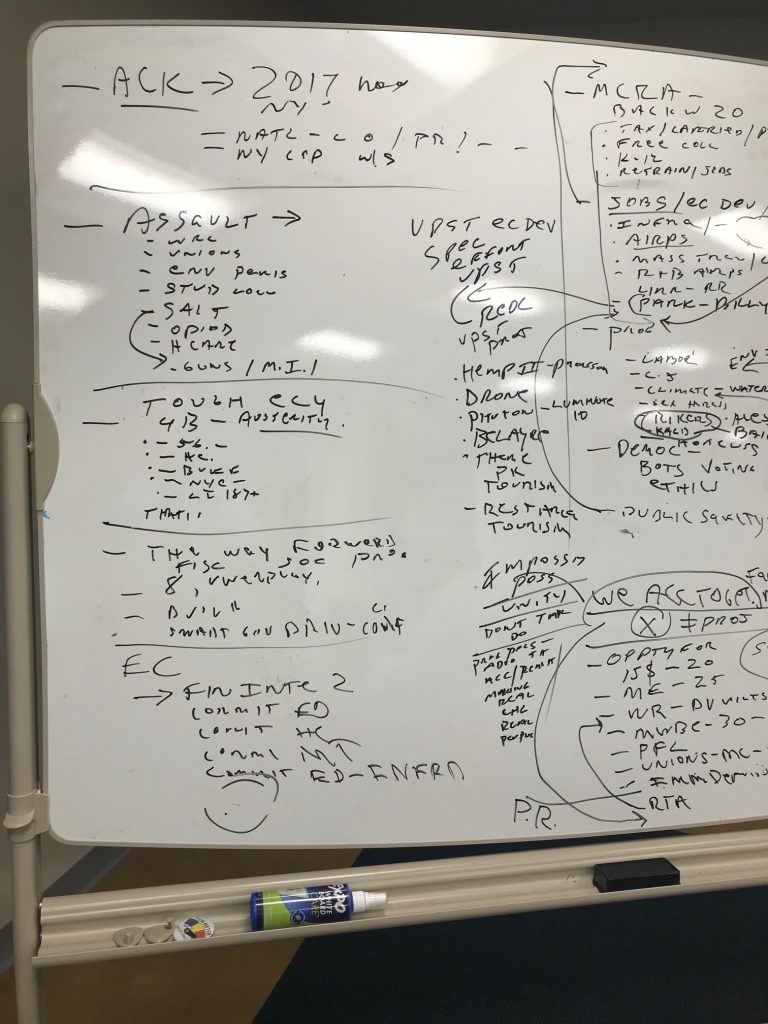 11.15 SOS meeting with the Gov
11.14 Jim Vanderhei in Axios: "There are lots of reasons American politics went off the rails, but Axios CEO Jim VandeHei breaks out six seminal events in the past 24 years that steered us here: Newt Gingrich, in the early 1990s, weaponized warfare politics in a methodical and sustained way. In tactics and rhetoric, Gingrich ushered in a good-vs.-evil style that persists today. Fox News, created in 1996, televised and monetized this hard-edged combat politics. This created the template for MSNBC to do the same on the left, giving both sides a place to fuel and fund rage 24/7. CNN soon went heavy on politics, all day, making governance a show in need of drama. Facebook and later Twitter, both products of the post-2000 Internet revolution, socialized rage and argument. Now every nut with an opinion could find fans and followers to cheer/egg him or her on. This happened as the middle in politics was officially purged from Congress.John McCain picking Sarah Palin as his running mate in 2008 celebritized rage politics. Until that moment, Republicans typically picked conventional, next-in-line candidates. Palin, made for cable and social media, was the precursor to Trump. Facebook, with command of so much of most voters' time and attention, algorithm-ized rage starting around 2015. The more emotion you felt and sought, the more the newsfeed machine pumped at you. With no one looking, fake news was born and metastasizing. Twitter + Trump, igniting in 2016, habitualized and radicalized the moment-by-moment rage and reaction of politicians, voters and the media. This created more froth and more fog, and resulted in a spike of people who don't believe real news, much less the fake news pulsing through the system.Now, all of this has been institutionalized. No wonder people don't trust, like or believe politicians — or often each other."
11.14 Richard Javad Heydarian in the Washington Post: "During President Donald Trump's first official Asia tour, the precipitous erosion of America's decades-long hegemony in the region has been painfully apparent. This is partially the structural byproduct of the rapid rise of China, which has openly called for a 21 century new regional order of "Asia for Asians." Since 2013, the Asian powerhouse has rolled out an alluring package of development initiatives, which could potentially redraw the economic landscape of the region and beyond. With China emerging as the world's economic engine, it is proactively reclaiming its historical place in the sun. But it is also the byproduct of the tempestuous Trump presidency's devastating impact on American standing in Asia. Both allies and rivals in the region have been perturbed by Trump's "America first," neo-isolationist foreign policy. His midnight tirades on Twitter, constant attacks on the liberal international order and push to dismantle the Trans-Pacific Partnership trade agreement have collectively left America isolated even from some of its closest allies. As an official from one of America's key partners in the region put it to me earlier this year: "Is this how superpowers commit suicide?" It appears the answer is yes."
11.14 Theresa May has accused Moscow of using fake news to undermine democracy in the UK.
11.13 New York Yankees right fielder Aaron Judge was unanimously named the 2017 American League Rookie of the Year.
11.13 GQ names Colin Kapernick Citizen of the Year
11.13 Roy Moore is accused by a fifth woman
11.13 Senate Majority Leader Mitch McConnell, re: Roy Moore: "I believe the women."
11.13 Conservative viewers smash Keurig coffee makers after company pulls ads from "Hannity"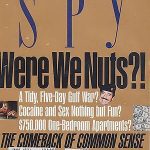 11.13 Liz Smith dies at 94. I always enjoyed her column, never more than when I had written an item that got planted in her space. That happened several times during my early brief career in public relations, but never with greater satisfaction than in 1991, when I was an editor at Spy. The peerless Ted Heller had conjured the spirit of Jack Fine, an old time theatrical agent. So unbelievable was Ted's performance that we put him on the phone and proceeded to prank a bunch of producers of cheesy TV sitcoms by having Fine try to place such clients as Vanessa Redgrave and Robert DeNiro on shows like Full House. The transcripts of these calls became a feature in our March 1991 issue. We loved Jack so much that the following month we killed him, and asked the ladies and gentlemen of show business to mourn one of their own (which he was, non-existent though he may have been.) Liz Smith obliged by running a mournful au revoir: "A sad milestone in the world of show business: Jack Fine, personal manager to such golden greats of Hollywood as Betty Grable, Johnny Weissmuller and Jeff Chandler, passed away recently in Australia, far from his beloved New York. . . .He was known for unflagging optimism, expressed in his famous signature line: "Smile, darling–somewhere it's opening night."
11.13 Anne Applebaum in the Post: The groups that displayed themselves so aggressively in Warsaw on Saturday are not the majority in Poland. They are not even a significant minority. They are a radical group who suddenly feel enabled and encouraged by the new conditions in their country, in Europe and in the world. But even if they don't set the tone for public life, in Warsaw — a city that was destroyed by fascists, where old buildings are still pockmarked by bullet holes from fascist rifles; a city that also now hosts the most ambitious and beautiful Jewish museum in Europe — their new sense of entitlement is indeed shocking.
11.12 E.J. Dionne Jr.in the Post: " The focus on President Trump's political strength among white working-class voters distracts from a truth that may be more important: His rise depended on support from rich conservatives, and his program serves the interests of those who have accumulated enormous wealth. This explains why so few congressional Republicans denounce him, no matter how close he edges toward autocracy, how much bigotry he spreads — or how often he panders to Vladimir Putin and denounces our own intelligence officials, as he did again this weekend. The GOP leadership knows Trump is tilting our economy toward people just like him, the objective they care about most.