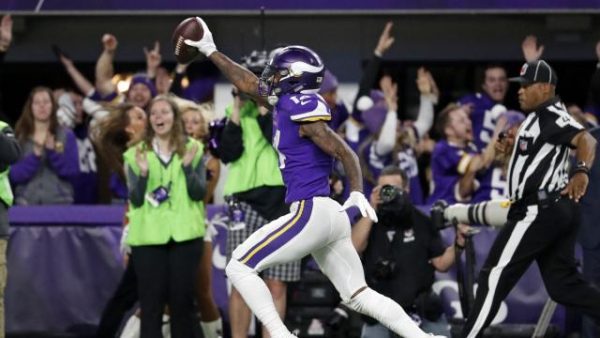 1.14 In a thriller, the Vikings upset the Saints with a desperate pass for a touchdown on the last play of the game.
1.13 Dinner at Pete's Tavern with Ginny, Greg, Susan and Margaret, followed by The Post. A very good film. I particularly liked how Meryl Streep's Katherine Graham found her way to her position of principle by feeling personally betrayed by Robert McNamara.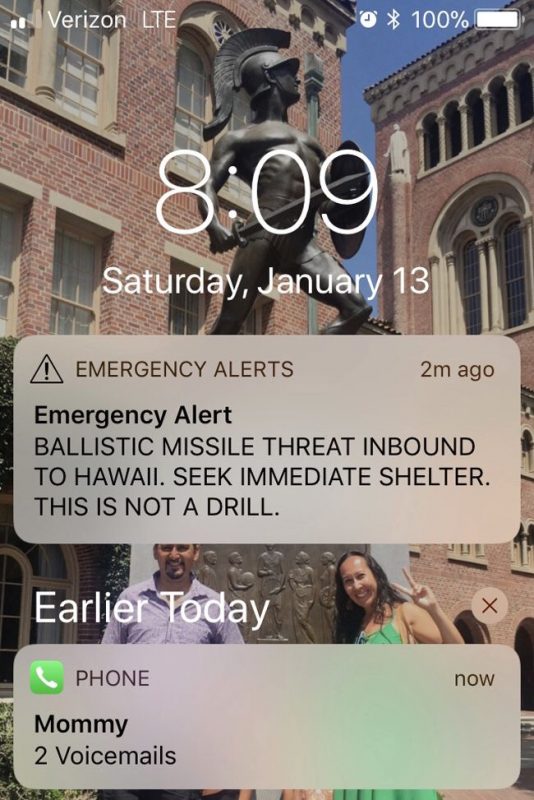 1.13 A fake text warns Hawaii of imminent nuclear destruction.
1.11 Trump: "Why are we having all these people from shithole countries come here?"
1.10 Shepard Smith on Fox News: "All of that about libel laws, that was just a word salad of nothingness, because none of that means anything, except 'look over here.'" He couldn't change the libel laws if he wanted to change the libel laws, he couldn't change them if he got the Congress in there. These are state laws, and that was nothing. He's not a dictator. He's not a king, He can't change the libel laws. That's preposterous."
1.10 NJ.com: Christie "leaves office in a week as the state's most unpopular governor in modern times, a once-rising star whose presidential ambitions were dashed by the Bridgegate scandal and the rise of Donald Trump."
1.9 Bannon out at Breitbart
1.9 The reliably entertaining Major Crimes ends a much-appreciated run.
1.8 Bill Gates in Time: "In 1990, more than a third of the global population lived in extreme poverty; today only about a tenth do. A century ago, it was legal to be gay in about 20 countries; today it's legal in over 100 countries. Women are gaining political power and now make up more than a fifth of members of national parliaments—and the world is finally starting to listen when women speak up about sexual assault. More than 90% of all children in the world attend primary school. In the U.S., you are far less likely to die on the job or in a car than your grandparents were. And so on."
1.8 An 18 year old freshman quarterback named Tua Tagovailoa came off the bench at halftime with his team trailing 13-0, and led Alabama to an overtime victory that gave the school its fifth national championship under head coach Nick Saban.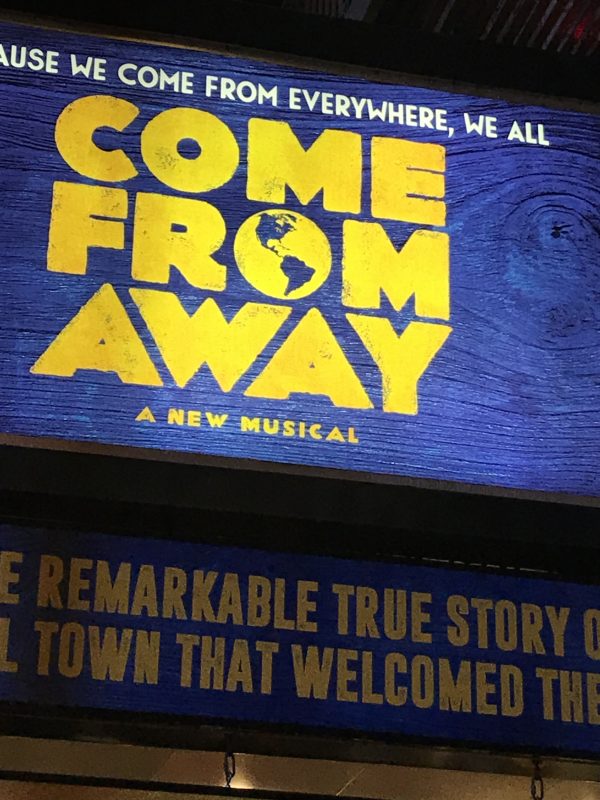 1.8 Cornell Belcher, a Democratic strategist and former Obama pollster: "Running for president is . . . an ugly, nasty, grueling slog through all of these multiple states. It's going to unglamorous places and showing up at fish fries. To successfully run, you need several things: money, infrastructure and a niche. That said, I think in this current environment — and I cannot believe I am saying this — but if Oprah would throw her hat in the ring, she would be the front-runner."
1.7 Oprah Winfrey at the Golden Globes: "I want all the girls watching here, now, to know that a new day is on the horizon! And when that new day finally dawns, it will be because of a lot of magnificent women, many of whom are right here in this room tonight, and some pretty phenomenal men, fighting hard to make sure that they become the leaders who take us to the time when nobody ever has to say "Me too" again."
1.6 On a frigid night, a heart-warming show. With Ginny, Cara, Molly and Shawn. Preceded by dinner at Joe Allen's.
1.5 Steve Schmidt on MSNBC: "When you look at their comportment, they couldn't be more vile than if they were a group of monkeys throwing their excrement at each other in a cage."
….to President of the United States (on my first try). I think that would qualify as not smart, but genius….and a very stable genius at that!

— Donald J. Trump (@realDonaldTrump) January 6, 2018
….Actually, throughout my life, my two greatest assets have been mental stability and being, like, really smart. Crooked Hillary Clinton also played these cards very hard and, as everyone knows, went down in flames. I went from VERY successful businessman, to top T.V. Star…..

— Donald J. Trump (@realDonaldTrump) January 6, 2018
1.4 "Bomb cyclone" hits east coast.from Floida to New England/ Polar vortex to follow
1.3 Trump "When (Steve Bannon) was fired, he not only lost his job, he lost his mind."
1.3 Charlie Sykes: "I can't help thinking of Bannon as the Robespierre of this Trumpian revolution, ultimately devoured by the forces he helped release. He helped create a pro-Trump media ecosystem that demanded loyalty, not ideological consistency. Now that he is perceived as disloyal (and perhaps dangerous), he is going to get the same treatment he used to give the globalist, establishment types."
1.3 Bannon: "The three senior guys in the campaign … thought it was a good idea to meet with a foreign government inside Trump Tower in the conference room on the twenty-fifth floor — with no lawyers. They didn't have any lawyers. Even if you thought that this was not treasonous, or unpatriotic, or bad shit, and I happen to think it's all of that, you should have called the FBI immediately."
1.3 Steve Bannon: "They're going to crack Don Jr. like an egg on national TV. They're sitting on a beach trying to stop a Category Five."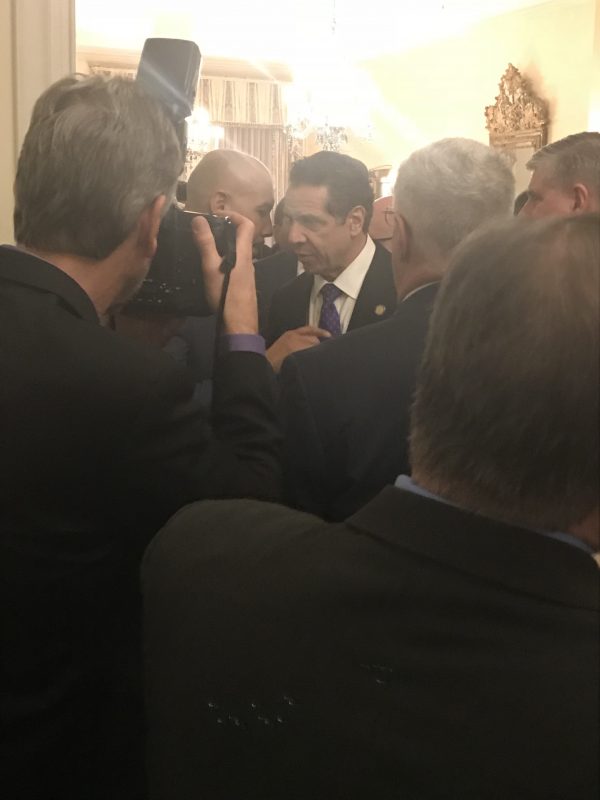 Wonder if @NYCMayor wishes he had @NYGovCuomo's speechwriters?

— Michael Benjamin (@SquarePegDem) January 3, 2018

1.3 Albany today for the State of the State. The New York Times: "With a re-election campaign and potentially treacherous political terrain ahead, Gov. Andrew M. Cuomo laid out his 2018 agenda on Wednesday, painting a portrait of a state battling the effects of terrorism, sexual harassment and opioid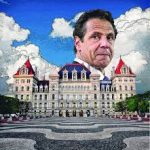 addiction, and under siege from the Trump administration. In his 90-minute State of the State speech, Mr. Cuomo said the state would challenge the new Republican-led federal tax plan in court — earning a standing ovation from the crowd — and asked the Legislature to restructure the state's tax code by adding a statewide payroll tax and to counter the effects of the so-called carried interest loophole. . . .with New York facing billions of dollars in budget gaps, and swaths of suburban voters possibly looking at tax increases as a result of the new cap on income and property tax deductibility, the initial reaction in Albany suggested the idea had a puncher's chance, including among some State Senate Republicans representing moderate districts."
1.2 Trump tweet: "North Korean Leader Kim Jong Un just stated that the "Nuclear Button is on his desk at all times." Will someone from his depleted and food starved regime please inform him that I too have a Nuclear Button, but it is a much bigger & more powerful one than his, and my Button works!"
1.2 Albany
1.1 New Year's Day brunch with Greg and Susan and Cathy and Tim