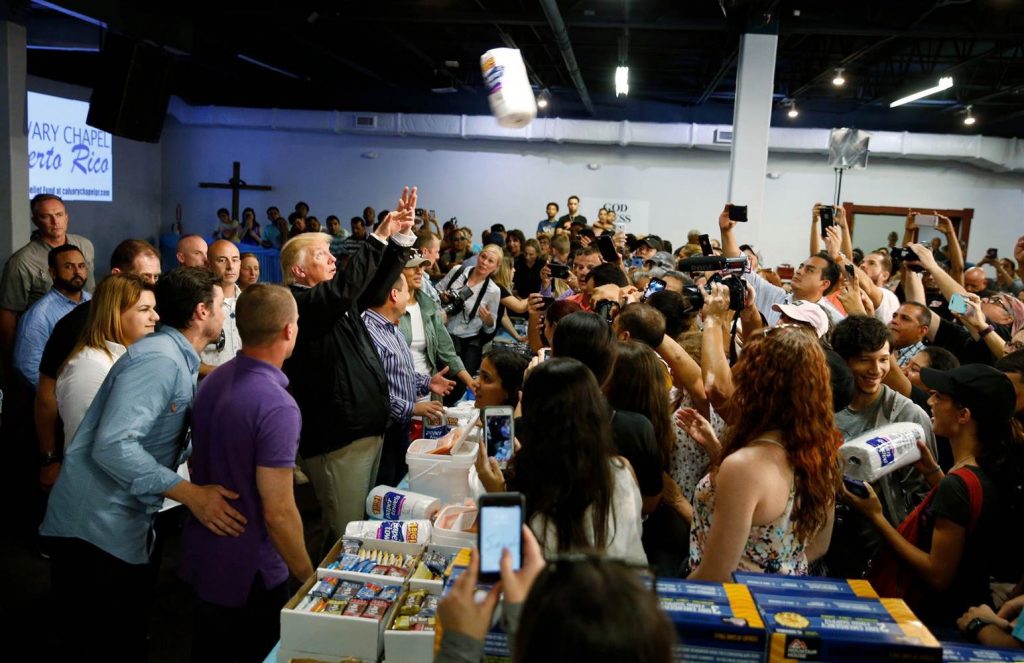 9.30 Washington Post: "[A]s storm-ravaged Puerto Rico struggled for food and water amid the darkness of power outages[,] Trump and his top aides effectively went dark themselves. Trump jetted to New Jersey that Thursday night [9 days ago] to spend a long weekend at his private golf club there, save for a quick trip to Alabama for a political rally. Neither Trump nor any of his senior White House aides said a word publicly about the unfolding crisis. Administration officials would not say whether the president spoke with any other top officials involved in the storm response while in Bedminster, N.J. He spent much of his time over those four days fixated on his escalating public feuds with North Korean leader Kim Jong Un, with fellow Republicans in Congress and with the National Football League. Even though local officials had said publicly as early as Sept. 20, the day of the storm, that the island was 'destroyed,' the sense of urgency didn't begin to penetrate the White House until Monday, when images of the utter destruction and desperation — and criticism of the administration's response — began to appear on television. Trump's public schedule Monday was devoid of any meetings related to the storm, but he was becoming frustrated by the coverage he was seeing on TV. At a dinner Monday evening with conservative leaders at the White House, Trump opened the gathering by briefly lamenting the tragedy unfolding in Puerto Rico before launching into a lengthy diatribe against Sen. John McCain. Trump's rosy assessment of the federal response has … contrasted sharply with the comments of federal officials on the ground."
9.29 Lt. Gen. Jay Silvera of the US Air Force Academy: "Just in case you're unclear on where I stand on this topic, I'm going to leave you my most important thought today: If you can't treat someone with dignity and respect, then you need to get out. If you can't treat someone from another gender, whether that's a man or a woman, with dignity and respect, then you need to get out. If you demean someone in any way, then you need to get out. And if you can't treat someone from another race, or different color skin, with dignity and respect, then you need to get out. . . .Reach for your phones. I'm serious: Reach for your phones. … Grab your phones. I want you to videotape this — so that you have it, so that you can use it, so that we all have the moral courage together." Then he said: "If you can't treat someone with dignity and respect, then get out."
9.27 Michael Rosenberg in si.com: t's almost certainly over for Pitino now. He is 65 and leaving in disgrace from Louisville, a place with an astoundingly high disgrace tolerance. When the NCAA dusts off its rulebook and hammers the Cardinals again, it will surely hit Pitino with a show-cause penalty, keeping him off the court for a few more years. Even in the swamp of college sports, it's hard to envision Pitino cleaning himself up enough to get another big-time job. He has gone from the coach everybody wanted to hire to the guy nobody will touch.
9.27 Hugh Hefner dies at 91. One of the most influential men of the 20th century. He changed the world to fit his vision; then the world kept changing, until he was left out.
9.27 Trump: "The NFL is in a box, a really bad box. In my opinion, the NFL has to change or their business is going to go to hell."
9.27 Garrison Keillor: "Roy Moore's triumoh is a ray of sunshine for those of us who'd like to restore stoning to our legal system."
9.26 Judge Roy Moore beats Senator Luther Strange in GOP Primary in Alabama.
9.26 King Salman of Saudi Arabia issued a historic royal decree Tuesday granting Saudi women the right to drive
9.26 Senate Republicans scrap vote to repeal ObamaCare after McConnell, Trump fail to get support needed
9.26 Michael Gerson in The Washington Post: This is a sobering historical moment. America has a racial demagogue as president. We play hail to this chief. We stand when he enters the room. We continue to honor an office he so often dishonors. It is appropriate but increasingly difficult.
9.25 Kurt Andersen in the Times on the future of magazines: "Magazines might eventually gain a cult following akin to the interest around other obsolete media, like vinyl records. Eventually, they'll become like sailboats. They don't need to exist anymore. But people will still love them, and make them and buy them."
9.25 Sen. Collins announces that she will vote against Graham-Casserly, marking the third time the GOP's attempt to repeal and replace Obamacare has met defeat this summer.
9.25 With two homers, Aaron Judge sets the record for home runs as a rookie with 50.
9.25 Steve Coll in The New Yorker, "Never before have two leaders in command of nuclear arsenals more closely evoked a professional wrestling match"
9.25 Sarah Sanders at White House briefing: "We've not declared war on North Korea."
9.25 North Korea's foreign minister said Trump "declared war on our country" when he threatened last week to "totally destroy" North Korea
9.24 National Review: " [W]hile peevishness and carping are effete, magnanimity is manly and disarming. Manliness is a much derided concept these days … Some men aspire to it but bluster, miss the mark, and end up being catty instead. It's called Twitter. In contrast, competition on the court can still be uplifting."
9.24 Mike Murphy in Quartz: "The most impressive thing Apple has shown off in 2017, the year that was supposed to be its most impressive in a decade, was a $5 billion campus. Much like everything else the company released this year, the campus seemed to favor form over functionality."
9.24 Angela Merkel wins a fourth term as German chancellor.
9.24 Terry Bradshaw: "It's hard to believe that I'm going to say something about the most powerful man in the greatest country in the world, but probably like a lot of you, I was somewhat surprised that the President—the President of the United States came out attacking NFL players for them exercising the Freedom of Speech. While I don't condone the protesting during our National Anthem, THIS IS AMERICA! If our country stands for anything, folks, what—it's freedom. People died for that freedom. I'm not sure if our president understands those rights—that every American has the right to speak out, and also to protest."
9.24 Dozens of NFL players demonstrated by taking a knee during the national anthem on Sunday following President Donald Trump's criticism on Friday against athletes that kneel. The Seattle Seahawks sat out the anthem, while the Pittsburgh Steelers also stayed off the field. The owner of the Jaguars, who is a Trump donor, linked arms with his players and called the president's remarks "divisive." Other woners joined the players. Trump, insisting his criticism had nothing to do with race, called for an NFL boycott to stop the protests.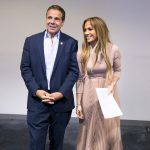 9.24 Governor Cuomo and Jennifer Lopez raise money for Puerto Rico
9.24 Carlos Lozada in the Washington Post: Trump displays signs of "extreme present hedonism," the tendency to live in the moment without considering consequences, seeking to bolster one's self-esteem no matter the risk. Or he exhibits "narcissistic personality disorder," which includes believing you're better than others, exaggerating your achievements and expecting constant praise. Combine hedonism, narcissism and bullying, and you get "an impulsive, immature, incompetent person who, when in the position of ultimate power, easily slides into the role of the tyrant," Philip Zimbardo (of the famous Stanford prison experiment) and Rosemary Sword write. Others suggest that Trump shows indications of sociopathy, including lack of empathy, absence of guilt and intentional ma­nipu­la­tion. Put it all together and you have "malignant narcissism," which includes antisocial behavior, paranoid traits, even sadism.
9.22 Trump, at a campaign rally in Alabama: at a campaign rally in Alabama, could not have been clearer, or cruder: "Wouldn't you love to see one of these NFL owners, when somebody disrespects our flag, to say, 'Get that son of a b—- off the field right now. Out! He's fired. He's fired!' " Also: "15 yards, throw him out of the game! They had that last week — I watched for a couple of minutes. And two guys — just really beautiful tackle. Boom: 15 yards! The referee gets on television, his wife is sitting at home, she's so proud of him — they're ruining the game."Right? They're ruining the game. Hey look, that's what they want to do. They want to hit, OK? They want to hit. But it is hurting the game."