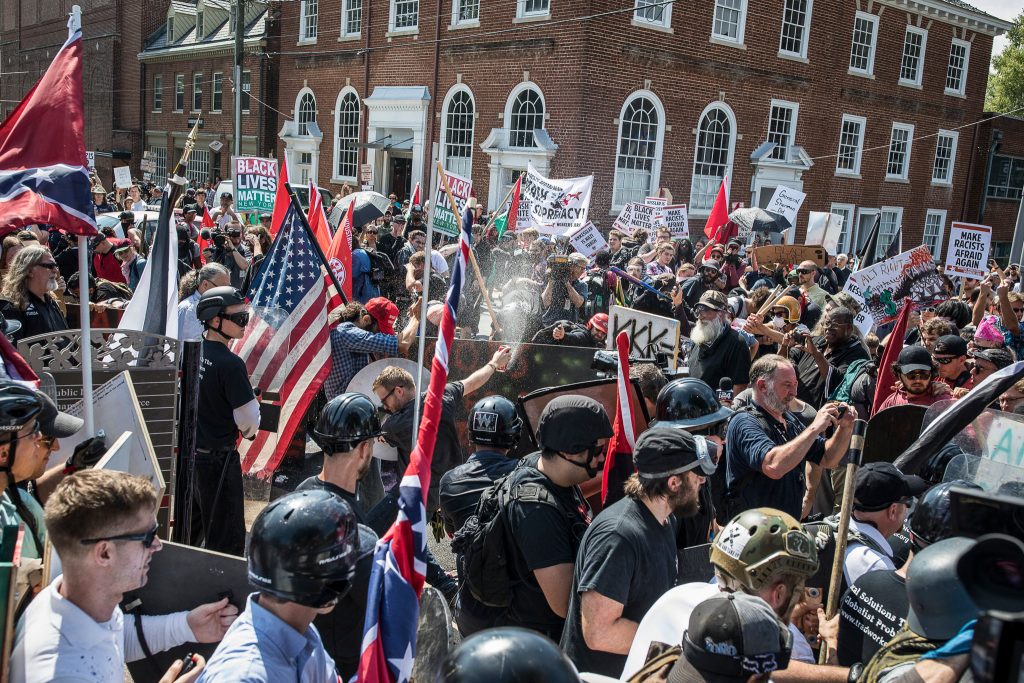 8.18 Bannon is out. Upon leaving, he told The Weekly Standard "The Trump presidency that we fought for, and won, is over," he told the Weekly Standard on Friday. "We still have a huge movement, and we will make something of this Trump presidency. But that presidency is over." Also: "I've got my hands back on my weapons. I built a f***ing machine at Breitbart. And now I'm about to go back, knowing what I know, and we're about to rev that machine up. And rev it up we will do."
8.18 DeMarcus Cousins of the New Orleans Pelicans on confederate statues: "Take all them motherfuckers down."
8.17 Senator Bob Corker: "The President has not yet been able to demonstrate the stability nor some of the competence that he needs to demonstrate in order to be successful. He has not demonstrated that he understands what has made this nation great and what it is today, and he's got to demonstrate the characteristics of a president who understands that."
8.17 A car attack in Barcelona killed 13 and injuring scores more. ISIS took credit.
8.17 James Murdoch: "I'm writing to you in a personal capacity, as a concerned citizen and a father. … [W]hat we watched this last week in Charlottesville and the reaction to it by the President of the United States concern all of us as Americans and free people. These events remind us all why vigilance against hate and bigotry is an eternal obligation. I can't even believe I have to write this: standing up to Nazis is essential; there are no good Nazis. Or Klansmen, or terrorists. Democrats, Republicans, and others must all agree on this, and it compromises nothing for them to do so."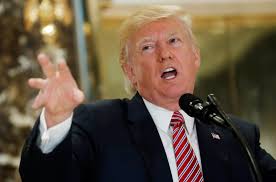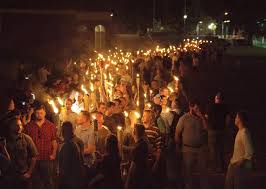 8.17 Trump: "Sad to see the history and culture of our great country being ripped apart with the removal of our beautiful statues and monuments​," he wrote in a series of tweets. ​​"You​ ​can't change history, but you can learn from it. Robert E Lee, Stonewall Jackson – who's next, Washington, Jefferson? So foolish! "​ ​He continued: ​"the beauty that is being taken out of our cities, towns and parks will be greatly missed and never able to be comparably replaced!​
8.17 Senator Tim Scott: "I'm not going to defend the indefensible…[Trump's] comments on Monday were strong. His comments on Tuesday started erasing the comments that were strong. What we want to see from our president is clarity and moral authority. And that moral authority is compromised when Tuesday happened. There's no question about that."
8.17 Mike Allen in Axios: Trump started with a pretty clean slate but has methodically alienated: The public: Gallup has his approval at 34%, down from 46% just after the inauguration; Republican congressional leaders — Senate Majority Mitch McConnell in particular; Every Democrat who could help him do a deal; The media;
CEOs; World leaders; Europe; Muslims; Hispanics; African Americans; Military leaders; The intelligence community; His own staff.
And who's happy? Steve Bannon. Saudi Arabia. Breitbart. David Duke.
Be smart: The presidency is a lonely job. But Trump is unusually isolated because he thinks he needs no one besides himself. As one of his most ardent defenders told me: "He's just not as good as he thinks he is. And no one can tell him."
8.16 The Presidents Bush: "America must always reject racial bigotry, anti-Semitism, and hatred in all forms. As we pray for Charlottesville, we are reminded of the fundamental truths recorded by that city's most prominent citizen in the Declaration of Independence: we are all created equal and endowed by our Creator with unalienable rights. We know these truths to be everlasting because we have seen the decency and greatness of our country."
8.16 Howard Fineman in HuffPo: "Having risen to power by dividing the country, his party leadership and even, at times, his own campaign team, [Trump's] aim now is to divide or discredit any institution, tradition or group in his way, Trump seems perfectly willing to destroy the country to maintain his own power. … The goal, as always with Trump, is to win amid the chaos he sows, to be the last man standing in rubble. And 'winning' is rapidly being reduced to the raw, basic terms he prefers: brute survival."
8.16 Susan Bro, mother of Heather Heyer: "They tried to kill my child to shut her up, but guess what, you just magnified her."
8.16 Howard Fineman in HuffPo: Donald Trump seems perfectly willing to destroy the country to maintain his own power. He is racing to undermine the federal political system — if not all American public life — before still-independent forces (for now, the federal courts, the press and Congress) undermine him. The goal, as always with Trump, is to win amid the chaos he sows, to be the last man standing in rubble. And "winning" is rapidly being reduced to the raw, basic terms he prefers: brute survival. With a record-setting low approval rating, world crises everywhere and a special counsel on his tail, the main victory he can hope for is staying in office.It's not only an emotional imperative for Trump, it's a deliberate ― and thus far successful ― strategy. I am told by lawyers familiar with special counsel Robert Mueller's methods and those of similar investigations that Mueller almost certainly obtained the president's federal tax returns long ago. Whether Trump knows that directly or not, he has to assume it — and be driven wild by it. The counsel also has assembled an industrial-strength team of experts in international money-laundering, criminal tax fraud and forensic accounting. So the survival urge is more urgent.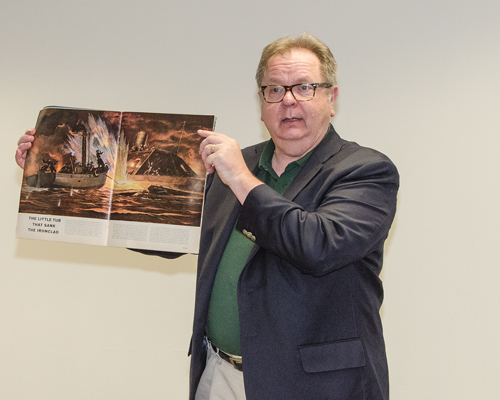 8.16 Spoke to the Phil Kearney Roundtable of Northern New Jersey
8.16 Art of the Deal co-author Tony Schwartz : Trump's presidency is effectively over. Would be amazed if he survives till end of the year. More likely resigns by fall, if not sooner. The circle is closing at blinding speed. Trump is going to resign and declare victory before Mueller and congress leave him no choice.
8.16 Jon Meecham on Charlie Rose: "The fires of hate burn the brightest when there are moments of economic and social stress. Reconstruction was that kind of moment. The beginning of the institution of Jim Crow into the 1890s. … You have these moments when some part of the white population, frankly, feels alienated and dispossessed. And the reality of 2017 is … globalization and its discontents. The changing demography of the country. The changing idea that Information Age brains matter more than Manufacturing Age brawn. … That's part of the reason Donald Trump is president …And so on the racial question, with all respect and affection to my friend [and fellow panelist], Reverend [Al] Sharpton, it is not a dog whistle if everybody can hear it. And I think that's where we are right now. … I think that you have these moments where the extremes — the hate, the people who are giving Nazi salutes after we have spent so much blood and treasure trying to liberate the world from the form of tyranny — … it's an extreme manifestation of an underlying reality."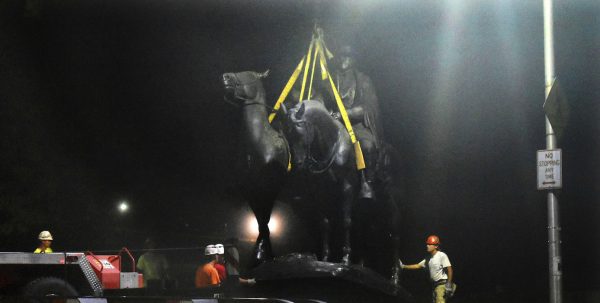 8.16 Baltimore removes four Confederate statues
8.15 Sen. Lindsey O. Graham: "I don't believe Trump colluded with the Russians, because I don't believe he colludes with his own staff."
8.14 Washington Post: This city known for its rain just went a record-breaking 55 days without any. The Seattle-Tacoma International Airport had not measured any precipitation since June 18 until the wee hours of Sunday morning, when it drizzled. Barely. Some sprinkles also allowed Portland to break its own 57-day dry streak.Climate change is leading to more extreme weather, and no other region has experienced that so much over the last year as the Pacific Northwest. Seattle got 44.9 inches of rain between Oct. 1 and April 30, the wettest such period ever. That means, even with the record dry streak, 2017 remains above normal for rainfall.
8.14 Steve Bannon: "This past election, the Democrats used every personal attack, including charges of racism, against President Trump. He then won a landslide victory on a straightforward platform of economic nationalism. As long as the Democrats fail to understand this, they will continue to lose. But leftist elites do not value history, so why would they learn from history?"
8.14 Charles Krauthammer to Laura Ingraham: "What Trump did today was a moral disgrace."
8.14 HuffPo: President Donald Trump spoke again Tuesday on the white supremacist conflict in Charlottesville, Virginia, defending his much-criticized initial statement on the protests and offering an even stronger critique of demonstrators and the causes they fought for during the violent weekend gathering During remarks at Trump Tower, the president blasted protesters "on both sides" of the conflict in Charlottesville, echoing his initial statement that there was hatred "on many sides." "You had a group on one side who was bad, and you had a group on the other side that was also very violent, and nobody wants to say that, but I'll say it right now," Trump said, referring to white supremacists, anti-fascists known as "antifa" and counterprotesters who converged in Charlottesville over the weekend. "You had a group on the other side that came charging in without a permit, and they were very, very violent.""You have people who are very fine people on both sides," Trump said.
8.14 Washington Post: President Trump denounced the Ku Klux Klan and neo-Nazis by name Monday, declaring racist hate groups "repugnant to all that we hold dear as Americans," as he sought to tamp down mounting criticism of his response to the killing of a counterprotester at a white supremacist rally in Charlottesville over the weekend.
"Anyone who acted criminally in this weekend's racist violence, you will be held fully accountable," Trump said in brief remarks to reporters in the Diplomatic Reception Room of the White House, where he returned after a week of vacation in Bedminster, N.J. "We condemn in the strongest possible terms the egregious display of hatred, bigotry and violence. It has no place in America." Trump added: "Racism is evil and those who cause violence in its name are criminals and thugs, including the KKK, neo-Nazis, white supremacists and other hate groups that are repugnant to all that we hold dear as Americans." The statement came two days after the president failed to specifically condemn the white supremacist rally during which a woman was killed and as many as 19 wounded by a driver who reportedly espoused racist and pro-Nazi sentiments and had taken part in the "Unite the Right" march in Charlottesville. Trump, who met Monday with Attorney General Jeff Sessions and FBI Director Christopher Wray, reiterated that the Justice Department has launched a civil rights probe into the death of Heather Heyer, 32, who was killed when a car allegedly driven by James Alex Fields Jr., of Ohio slammed into a group of counterprotesters.On Saturday, Trump condemned "the egregious display of hatred, bigotry and violence on many sides," sparking sharp criticism from Democrats, civil rights proponents and some Republicans for failing to single out and condemn the white supremacists who sparked the violence.
8.14 Jennifer Rubin in the Washington Post: President Trump, for all his bluster and outward aggression, is a weak man. He eventually backs down when circumstances are right. For example: He hasn't fired Attorney General Jeff Sessions. He hasn't fired special counsel Robert S. Mueller III. He signed the Russia sanctions bill. He fired Michael Flynn (and seems to have regretted it ever since). He reaffirmed our support for NATO. He signed a budget resolution without funding for the wall. He did not withdraw from NAFTA. He now has singled out for condemnation the KKK, neo-Nazis and white nationalists. We do not know if a certain combination of advisers prevailed upon him to do what he had so strenuously rejected. What is clear is that his position with his base is weakening and his overall polling numbers are still sinking. He hit a new low in Gallup at 34 percent approval and new high in disapproval of 61 percent. He therefore may be amenable to even more pressure going forward. So what "works" with him? First, he would rather bully aides into leaving (e.g., Sessions) than take the initiative to remove them himself. If the victim of his bullying ignores him and keeps plugging away, Trump very well may back down. Second, when it's hopeless to resist (e.g., a veto on Russia would have been overridden) he'll relent. Third, when many Republicans are on the other side he usually does not have the wherewithal to persist in a ridiculous position. In the case of Charlottesville, even allies such as Sen. Tom Cotton (R-Ark.) singled out and denounced the white supremacist groups. When they are divided or egging him on (e.g., trade restrictionism, a commission to investigate non-existent, massive voter fraud, leaving the Paris climate agreement), he is much more likely to pursue his wrongheaded, even ridiculous position. Four, when he doesn't have to explain, answer questions or concede he backed down he is more likely to go along with the party. He had no signing statement for the Russia sanctions; he took no questions on Charlottesville Monday. Remember, protecting his ego is his constant task, hearing that he "lost" is unbearable.
8.14 John Podhoretz in the New York Post: This was not a mistake on Trump's part. This was a deliberate communications choice. It has a discomfiting parallel with the now-forgotten moment one week after Trump's swearing in when his administration issued a statement on Holocaust remembrance that did not mention Jews.
8.14 Bitcoin hit a new high. The cryptocurrency surged to over $4,000this weekend. As global geopolitical tensions rise, bitcoin is acting like a disaster hedge, much like gold. It's also moving into the mainstream: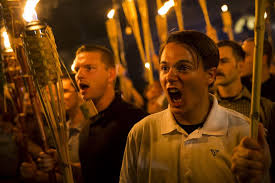 8.13 Sen. Orrin Hatch "My brother didn't give his life fighting Hitler for Nazi ideas to go unchallenged here at home."
8.13 Rich Lowry on Meet the Press: "[T]his was a moment … where the president could've elevated himself. Instead, he came up small. And that's one of the reasons … you've seen such a premium on the statements from other Republicans on moral clarity, given the president's ambiguity."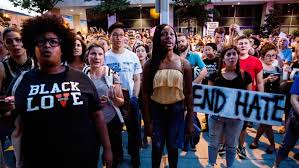 8.12 What Happened in Charlottesville: Over the weekend, clashes between protesters at a white supremacist rally turned deadly: A man drove his car into a group of counter-protesters, killing one woman and injuring 19 other people, and two state troopers died in a helicopter crash while policing the protests. President Trump drew heavy criticism for his first response to the events, which blamed "many sides" for the violence—and while he eventually issued an explicit condemnation of the white supremacists who ignited the conflict, he may have failed a crucial test with his initial reluctance to do so. More rallies are scheduled for next week, and their outcome will signal whether the movement is gaining strength.
8.11 Ezekiel Elliott suspended six games
8.10 The Atlantic: Richard Reeves and Isabella Sawhill, researchers at the Brookings Institution's Center on Children and Families, believe that highly educated women have had the smallest marriage decline, in large part, because they remade marriage into a more appealing institution. These educated, economically independent women now demand men who are interested in more equitable partnerships. "In the past, highly educated women faced an unenviable choice between accepting a patriarchal marriage or forgoing marriage and children entirely," Reeves and Sawhill write. "Now they are able to raise their children within a stable marriage without compromising their independence." Such unions are focused on "high-investment parenting" (HIP), rather than romance, sex or money.
8.10 Former Senator Gordon Humphrey: "Donald Trump is impaired by a seriously sick psyche. His sick mind and reckless conduct could consume the lives of millions. The threat of nuclear war is steeply on the rise. You must not take comfort in the system of checks and balances. The president alone has the authority to launch nuclear weapons, the only restraint being the advice of senior advisers who might be present at the time of crisis, and Donald Trump has shown repeated contempt for informed and wise counsel. He is sick of mind, impetuous, arrogant, belligerent and dangerous. Donald Trump should be relieved of the powers of the presidency at the earliest date.