1.25 Frank Bruni in the Times, on the bro vibe among Trump, Tom Brady, Patriots owner Robert Kraft and coach Bill Belichick: "These titans stick together in the way that many titans do, not because they share some special affection or particular philosophy but because each sees in the others' stature an affirmation of his own. They're a cluster strut."
1.25 Wall Street Journal: "The New Dating No-No: Asking for a Last Name — Now that smartphone apps are the primary way people meet, some things have become too awkward to ask" Why it matters: "Asking for a last name 'is definitely a modern social cue' that trust is building in a relationship."
1.24 George Will in the Washington Post: It cannot be a sign of social health that the number of tweets per day worldwide exploded from 5,000 in 2007 to 500 million six years later. And this might be related, by a few degrees of separation, to the fact that whereas in the 1992 presidential election more than one-third of America's 3,113 counties or their equivalents had a single-digit margin of victory, in the 2016 presidential election, fewer than 10 percent did. And to the fact that in 2016, 1,196 counties — about 2.5 times the average over the preceding 20 years — were decided by margins larger than 50 percent. All of which are perhaps related to rising skepticism, without scientific warrant, about the safety of vaccinations and genetically modified foods. And to the fact that newspaper subscriptions have declined about 38 percent in the past 20 years. And that between 1974 and 2016, the percentage of Americans who said they spent significant time with a neighbor declined from 30 percent to 19 percent."
1.24 Washington Post: There's growing cohesion among executives — cutting across industry and even geography — that Trump's tax plan is going to deliver massive new investment in the United States, which should, in turn, boost growth and employment."
1.24 The Big Apple Circus clown Grandma stepped down after being accused of coercing a teen acrobat into taking sexual photos
1.24 NBC: Researchers say remains of a wooden ship found embedded in mud in a river delta in the southern US may be the Clotilda, the last-known vessel to bring slaves to the US nearly 160 years ago.
1.24 Disgraced USA Gymnastics doctor Larry Nassar gets 175 years in prison for sex assaults. Judge Rosemarie Aquilina: "I've just signed your death warrant,"
1.23 Washington Post:" Google for the first time spent more than any other company in 2017 to influence Washington, highlighting both the sprawling reach of the country's thriving tech industry and the rising concern by regulators and lawmakers of its ascendance."
1.22 Simona Mangiante, fiancee of George Papadopoulos: "I believe history will remember him like John Dean."
1.21 Stormy Daniels: "It's crazy how one moment can overshadow 15 years of work."
1.21 Sen. Tammy Duckworth: "I will not be lectured about what our military needs by a five-deferment draft dodger. And I have a message for 'Cadet Bone Spurs.' If you cared about our military, you'd stop baiting Kim Jong Un into a war that could put 85,000 American troops, and millions of innocent civilians, in danger."
1.21 Pats overtake Jags, Eagles clobber Vikings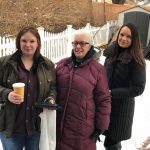 1.20 Ginny, Molly and Cara go to the Women's March in NYC
1.20 Government shut down
1.19 Paul Waldman in the Post: "For every American who really loves Donald Trump, there are about two Americans who really hate him."
1.19 Elizabeth Bruenig in the Washington Post: "When it's time for dessert, Trump gets two scoops of ice cream and everyone else gets one, and if, after all that and a sack of McDonald's, he still decides he has the height and weight of an athlete, then he does. There's the greed, the hoarding of wealth and gold objects, with vanishingly little given to charity, even just to add a touch of decorum. Decorum doesn't exist in isolation; it's something you undertake with regard to other people, and Trump does not regard other people. Unseemliness is a kind of liberty, and Trump has perfected that, too."
1.19 Albany
1.18 Albany; Melissa: "insanely condescending"
1.18 2017 was Earth's second-hottest year since 1880.