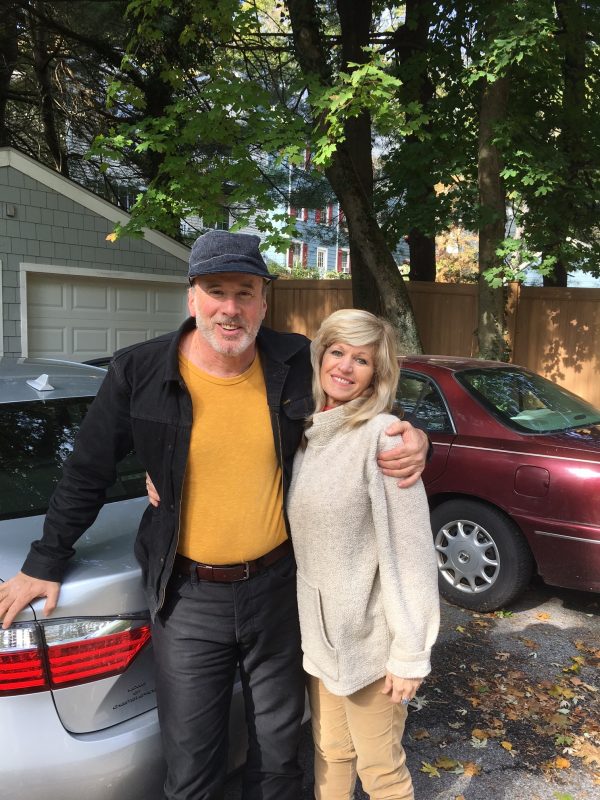 10.30 Bought a Subaru Forrester
10.29 Interview by Mark Moskowitz for documentary on Lary and Theresa
10.29 Washington Post: "Senior Justice Department officials warned the FBI that Director James B. Comey's decision to notify Congress about renewing the investigation into Hillary Clinton's private email server was not consistent with long-standing practices of the department, according to officials familiar with the discussions. The bureau told Justice Department officials that Comey intended to inform lawmakers of newly discovered emails. These officials told the FBI the department's position "that we don't comment on an ongoing investigation. And we don't take steps that will be viewed as influencing an election," said one Justice Department official who spoke on the condition of anonymity to describe the high-level conversations. "Director Comey understood our position. He heard it from Justice leadership," the official said. "It was conveyed to the FBI, and Comey made an independent decision to alert the Hill. He is operating independently of the Justice Department. And he knows it."'
10.27 Eugene Robinson in the Washington Post: "Kellyanne Conway, Trump's campaign manager. She has a kind of genius for assembling random words into very long sentences, which she wields against journalists' questions the way a Jedi knight uses a light saber to deflect incoming fire. Somehow she is serenely unfazed by direct contradiction. After the first debate, she said that Trump had displayed the "presidential virtue" of restraint by not mentioning Bill Clinton's affairs. But when Trump brought Clinton's accusers to the second debate, well, she said that was presidential, too."
10.27 After Tammy Duckworth said that her family had served in uniform dating back to the Revolution, Sen. Mark Kirk replied "I'd forgotten that your parents came all the way from Thailand to serve George Washington.Duckworth's mother, Lamai, is Thai, but her late father, Franklin, was a Marine veteran whose family roots in this country trace to before the American Revolution.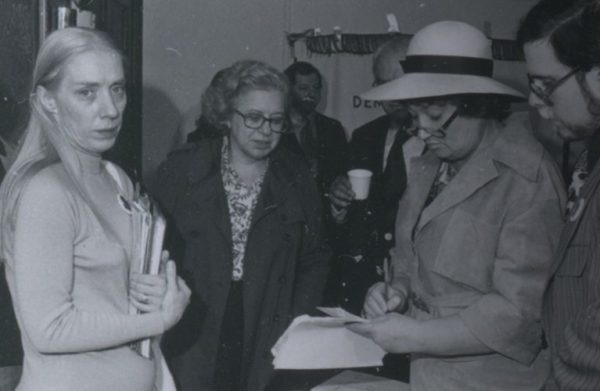 10.26 Maggi Peyton dies at 82. Harold Holzer: "Maggi Peyton, for more than 40 years the very model of the quintessential and indispensable behind-the-scenes New York City political aide, died at her Manhattan home on Wednesday, after a long illness. She was 82 years old. One of the closest of all the campaign staffers who helped advance the political fortunes (and manage the dispiriting defeats) of the late feminist icon Bella Abzug through many hard-fought state, city, and local election campaigns in the 1970s, Ms. Peyton. . . a onetime ballet dancer and founding member of the Manhattan Women's Political Caucus. . . was famously tight-lipped about her bosses, politically sophisticated, intensely loyal, unflappably calm, and a brilliant vote counter in tight elections."
10.26 The Washington Post: "Trump allies are actively laying plans to punish the GOP leadership for failing to fully embrace Trumpism — and, crucially, to keep Trumpism's legacy very much alive as a malevolent and disruptive political force inside the Republican Party. The Times notes that Trump campaign CEO Stephen Bannon is intent on forcing out House Speaker Paul Ryan, while other leading congressional supporters of Trump are warning the GOP leadership not to dare moderate on immigration, which could stir the great Trumpian masses to rise up in rage. In other words, the battle lines will roughly divide between GOP leaders, party strategists, and establishment figures who are urging one set of lessons to be drawn from the defeat (that the party needs to make peace with cultural and demographic change), and Trump supporters who are urging that a very different set of lessons be drawn (that the party must embrace Trump's species of ethno-nationalism and xenophobic, America First populism). As one congressional expert puts it: "I expect civil war within the GOP after November 8th, as party elites inside and outside of Congress jockey to assign blame and claim the GOP mantle going forward."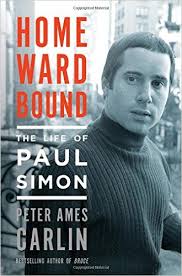 10.26 Homeward Bound: The Life of Paul Simon, by Peter Ames Carlin
10.25 Dana Milbank in the Washington Post: "Take the baby boomers. Please.The idealists of the 1960s have come a long way from Woodstock. After a quarter- century of mismanaging the country, they have produced Donald Trump, who with his narcissistic and uncompromising style is a bright orange symbol of what went wrong with the massive generation. And polls show that the boomers are the biggest source of support for Trump.Among voters between age 50 and 64, Trump leads Hillary Clinton by three points in Post-ABC News polling and by a point in NBC-Wall Street Journal polling, equal to the older, smaller Silent Generation's support of the Republican nominee in the latter poll. The generational support for Trump's burn-it-all-down campaign is the latest reminder of why the baby boomers are in the running to be remembered as the Worst Generation. But, if I may claim a rare moment of generational pride, there is good news in the polling, too. Generation X — my much-maligned generation — has turned emphatically against Trump. The NBC poll shows Clinton leading by 22 points among those between 35 and 49 — a more lopsided rejection of Trump than even the millennials mustered. This raises hope after the debacle of boomer governance. "It's really the boomers that are driving the hyperpartisanship and polarization and gridlock," says David Rosen, a consultant specializing in generational effects in politics. Beginning with the boomer-led 1994 Republican Revolution, "that's where you see the origin of the insane politics that we have right now. Trump is in some ways taking that style to its most absurd and ridiculous extremes."
10.22 The Chicago Cubs beat the Dodgers 5-0, and reach World Series for first time since 1945
10.21 In the Washington Post, Trump says "What a waste of time if we don't pull this off. You know, these guys have said: 'It doesn't matter if you win or lose. There's never been a movement like this in the history of this country.' I say, it matters to me if we win or lose. So I'll have over $100 million of my own money in this campaign. So, if I lose,if I lose, I will consider this —"
10.20 Donald Trump at the Al Smith Dinner: "I must say the media is more biased than ever before. Michelle Obama gives a speech and everyone loves her. My wife Melania gives the same speech and people get on her case," he said.
10.20 Hillary Clinton at The Al Smith Dinner: "People look at the Statue of Liberty, and they see a proud history of a nation of immigrants — a beacon of hope for people around the world. Donald looks at the Statue of Liberty and sees a 4. Maybe a 5 if she loses the torch and tablet and changes her hair."
10.19 Atlas Obscura: "Earlier this October, at a ceremony at the Royal Courts of Justice, London paid its rent to the Queen. The ceremony proceeded much as it had for the past eight centuries. The city handed over a knife, an axe, six oversized horseshoes, and 61 nails to Barbara Janet Fontaine, the Queen's Remembrancer, the oldest judicial position in England. The job was created in the 12th century to keep track of all that was owed to the crown. In this case, the Remembrancer has presided over the rent owed on two pieces of property for a very long time—since 1235 in one case, and at least 1211 in the other. Every year, in this Ceremony of Quit Rents, the crown extracts its price from the city for a forge and a piece of moorland. No one knows exactly where these two pieces of land are located anymore, but for hundreds of years the city has been paying rent on them. The rate, however, has not changed—the same objects have been presented for hundreds of years."
10.19 Wajahat Ali: "Are you not entertained? Is this is not why we're here? After watching the final presidential debate, and reminiscing about this absolutely absurd and historic election, I'm reminded of the poem "Auto Wreck," by Karl Shapiro, which I read in elementary school. "The traffic moves around with care, But we remain, touching a wound/That opens to our richest horror." This election cycle has opened up a uniquely American Pandora's box of horrors and delights. I am forever changed. How can I ever go back to serious, boring talk about policies that could affect the lives of millions? How can I sit through sober conversations about foreign policy and individual liberties? Who needs elitist jabberwocky, when you've just fed me glorious sex talk, bad hombres, Alicia Machado, "Celebrity Apprentice," Howard Stern, bragging about anatomical size, Mexicans as "rapists," white supremacists, anti-Semitic trolling, threats against journalists, encouraging foreign governments to hack our emails, reckless allegations of election rigging, threats to jail presidential candidates, "Access Hollywood" videos, Khizr Khan, the mockery of Gold Star mothers, Gennifer Flowers, Ben Carson's "fruit salad of their lives," and the use and abuse of Pepe the Frog as a symbol to promote a nativist, racist agenda? Sensationalism has replaced sobriety. Conspiracy theories and baseless allegations have replaced facts. Diplomacy and tact are mocked, and victories are measured not by intelligent policy positions but by snarky tweets and rhetorical low blows. This is the election America deserves, not the one it needs. It encapsulates and unleashes our collective id on the world."
10.19 10.19 Facial recognition software used by law enforcement agencies across the country has captured information on more than 117 million Americans, according to a report that calls for greater oversight and reviews for possible racial bias. The report, "The Perpetual Line-up," found that roughly half of all US adults are included in facial recognition databases and 16 states allowed law enforcement officials to run searches against driver's license photo databases without warrants — a "highly problematic" finding, according to the report released Tuesday by Georgetown Law's Center on Privacy & Technology.