8.31 Visited Rose in Maryland
8.30 New York Post: "A team of scientists that investigated extraterrestrial signals from deep space may have found signs of an advanced civilization in the solar system of a sun-sized star 95 light-years away. The Search for Extraterrestrial Intelligence (SETI) researchers believe that a strong signal detected from a 6.3-billion-year-old star could be an indication that something out there is trying to contact us. "The signal conceivably fits the profile for an intentional transmission from an extraterrestrial source," Alan Boyle wrote about the discovery in Geekwire."
8.29 Gene Wilder dies at 83.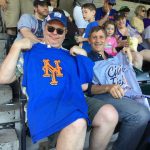 8.28 Dave Jensen and I went to the Met game (Phils 5, Mets 1)–and mirable dictu! We each caught T-shirts!
8.27 Jason Bourne. Happy to see Paul Greengrass made another nunch of millions, but enough already. With an uninteresting Alice Vikander playing an uninteresting character, the film just goes to show how important Joan Allen, Julia Stiles, Rachel Weisz, and Franka Potente were to the success of the series.
8.26 "He hasn't changed his position on immigration. He changed the words that he is saying."–Trump spokesperson Katrina Pierson on CNN
8.25 Maine Governor Paul LePage to Democratic RepDrew Gattine, whom he believed to be among the people calling him a racist. "I would like to talk to you about your comments about my being a racist," LePage said in a voicemail obtained by the Portland Press Herald. "I want to talk to you. I want you to prove that I'm a racist. I've spent my life helping black people, and you little son of a bitch, socialist cocksucker — I want you to record this and make it public because I am after you. Thank you."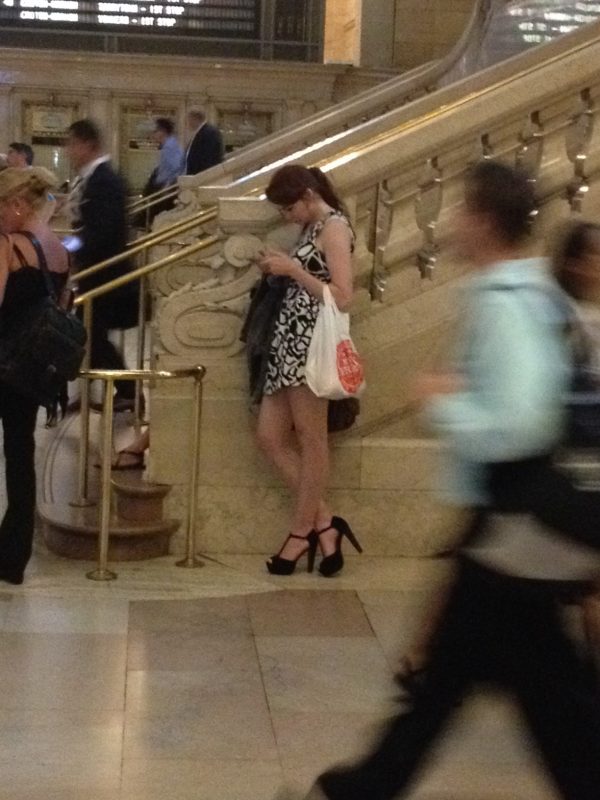 8.25 Grand Central Terminal, 6:02 PM
8.24 A. Whitney Brown: "And now, to my Redneck American Community, where are my Rednecks? There they are, there's my Redneck American, okay… For generations, you have been giving your vote to the Republicans, and what has it gotten you? Nothing! Your lives are a catastrophe, believe me. You have no health care, your children are all dying of meth and heroin, you have no education, you are shooting yourselves with your own guns on accident every day. So sad. Just a disaster. You have been losing, losing, losing. The big banks are buying all your farms, you have nothing to eat but junk food, you all have diabetes, and your water is totally poisoned from all the fracking going on. Absolutely horrendous. A complete waste. And what do you get for it? Nothing! Even the gays are better off than you. They're taking all your marriages. Your homes are totally broken, I can tell you.The Republicans have totally taken you for granted. They think you're stupid! They are taking advantage of you and it's got to end, believe me. The Democrats will straighten this out so fast it will make your head spin. We will give you Medicaid, if you will just vote in a Democrat governor, believe me. It will happen. I guarantee it. What the hell do you have to lose? We will fix your environment, we will clean up your water, we will help you get educated, and we will take the guns away from your crazy neighbor. It's going to be beautiful, believe me. We will give you Obamacare, we will give you an Obamaphone, and we will help your children go to college if they are smart enough. We will fix your roads and and bridges and we will stock lunker bass in all your fishing holes. We are going to build bridges and roads, and send your kids to college. And who is going to pay for it? The billionaires, that's right. They are going to pay their fair share once and for all. You are going to start winning again, and it is going to be beautiful. You are going to win so much you're going to get tired of winning. You'll say, Democrats, stop with the winning all the time, I can't take it, and we will say, no, we are going to keep on winning for all the Redneck Americans. We will be your voice! What the hell do you have to lose, I ask you? And after 4 years, I guarantee you we will have 95 percent of the Redneck American vote. I guarantee it. Believe me. Just give us a chance."
8.20 Washington Post: "Clutching Confederate flags, white supremacist signs and, in several cases, assault rifles, roughly 20 White Lives Matter members stood on the sidewalk of a historically black neighborhood to denounce the National Association for the Advancement of Colored People."
8.20 Trump's new mouthpiece, Kellyanne Conway, nee Fitzpatrick, once told a big fat lie about me. In 1999, when I was freelancing, Playboy asked me to write an article about all the new conservative female pundits who had flooded the airwaves: Arianna Huffington, Kellyanne Fitzpatrick, Ann Coulter, Laura Ingraham, Barbara Olson. I had a fun interview with Arianna, then called Fitzpatrick, who agreed to talk to me the following week. Before that happened, however, she called Page Six, and told them I had asked her to pose nude for Playboy, and that she, more virtuous than Caesar's wife, had refused. So instead of just saying no, she figured out a way to make herself look good in front of her conservative clients. That's the Kellyanne I know: a self-serving liar.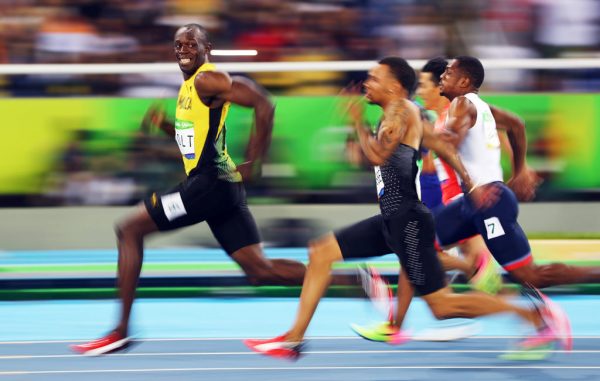 8.19 Usain Bolt complete his triple triple. "He's equally lovable to his fans and soul crushing to his opponents."
8.18 David Ignatius in the Washington Post: "A glimpse of what could lie ahead, if the next president continues the projects begun by the Obama Pentagon, came in a provocative 2014 study, "Toward a New Offset Strategy," by Robert Martinage of the Center for Strategic and Budgetary Assessments. Martinage recommended a dizzying new arsenal that would include a fleet of unmanned subs; an array of undersea sensors; "seabed payload pods" that could hide drones underwater until they were needed in a conflict; electromagnetic rail guns and directed-energy weapons; high-energy lasers that could blind enemy sensors; and a range of other new technologies.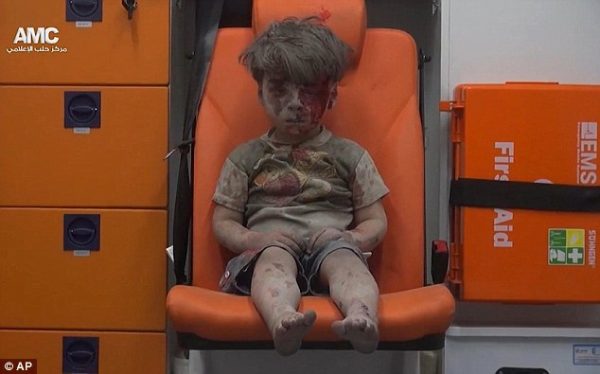 8.18 Photo of five year old Omran Daqneesh, a five year old boy wounded in air strikes in Aleppo, shocks the world.
8.17 Greg Sargent in The Washington Post: "This appears to confirm, as I have argued, that Trump remains trapped in the mental universe he inhabited during the primaries. That was a place where the size of his crowds at rallies actually did portend victories over less colorful and entertaining opponents who failed to create a mystique to rival his. It was a place where he really could win through sheer media dominance alone, because the bigotry, xenophobia, and all around depravity and wretchedness that drove that dominance — and with it, the name recognition that allowed him to blot out his rivals — did not alienate large numbers of Republican voters in the manner he is currently repulsing key general election constituencies. Trump now appears determined to prove that the same formula — which basically constitutes whipping up white backlash through rousing rallies and a continued emphasis on ethno-nationalism (leavened a bit by pretend minority outreach gestures) — can work in the general."
8.14 The New York Times: — "Secret Ledger in Ukraine Lists Cash for Trump Aide." "Handwritten ledgers show $12.7 million in undisclosed cash payments designated for Paul Manafort from (Viktor) Yanukovych's pro-Russian political party from 2007 to 2012, according to Ukraine's newly formed National Anti-Corruption Bureau. Investigators assert that the disbursements were part of an illegal off-the-books system whose recipients also included election officials," Andrew E. Kramer, Mike McIntire and Barry Meier report from Kiev. "In addition, criminal prosecutors are investigating a group of offshore shell companies that helped members of Mr. Yanukovych's inner circle finance their lavish lifestyles … Among the hundreds of murky transactions these companies engaged in was an $18 million deal to sell Ukrainian cable television assets to a partnership put together by Mr. Manafort and a Russian oligarch, Oleg Deripaska, a close ally of President Vladimir V. Putin."
8.13 Ross Douthat in the Times: "This election was supposed to be a referendum on Hillary Clinton, long a polarizing figure because she seemed to embody the cultural transformations of the 1960s — the liberal, feminist, working-mother spouse of the first boomer president. But in the year of Donald Trump, the religious conservatives who fought many of those transformations find themselves reduced to a hapless rump. The best have retreated to rebuild; the worst have abased themselves before a sybaritic, irreligious presidential nominee. So in word, deed and his wife's "artistic" shots, it's Trump rather than Clinton who has confirmed the full triumph of the sexual revolutions. I say revolutions, plural, because Trump is a reminder that the 1960s happened in stages, with different figures and worldviews shaping its social shifts. As John Podhoretz wrote, Trump and Hillary are both children of the '60s — but of its opposite ends, the Rat Pack era in Trump's case and the flowering of boomer liberalism in Hillary's. Much of what seems strange and reactionary about Trump is tied to what was normal to a certain kind of Sinatra and Mad Men-era man — the casual sexism, the odd mix of sleaziness and formality, even the insult-comic style. But while that male culture was "conservative" in its exploitative attitudes toward women, it was itself in rebellion against bourgeois norms and Middle-American Christianity. And if Hillary is a (partial, given her complicated marriage) avatar of Gloria Steinem-era feminism, her opponent is an heir of the male revolutionary in whose club Steinem once went undercover: Hugh Hefner. It was Hefner who fully embodied the male sexual revolt. Today he's just a sleazy oldster, but in the beginning he was a faux philosopher, preaching a gospel cribbed from bohemia and various Freudian enemies of repression, in which the blessed pursuit of promiscuity was the human birthright. But really a male birthright, for a certain kind of man: The sort of hep cat who loved inviting the ladies back to his pad "for a quiet discussion on Picasso, Nietzsche, jazz, sex." That was the ideal, at least. Trump, the thrice-married ubermensch who jokes about Megyn Kelly's period, is the more usual reality."
8.13 Michael Phelps wins his 23rd gold medal
8.13 "This is the US women's eight.''
8.13 Yankees Tyler Austin and Aaron Judge become the first team mates to go yard in their first at bats. They hit their homers back-to-back.
8.12 Vaunted Ambition, by Nathaniel Philbrick.
8.12 Alex Rodriguez ends tumultuous Yankee career by going 1 for 4 (an RHI double), in a 6-3 victory.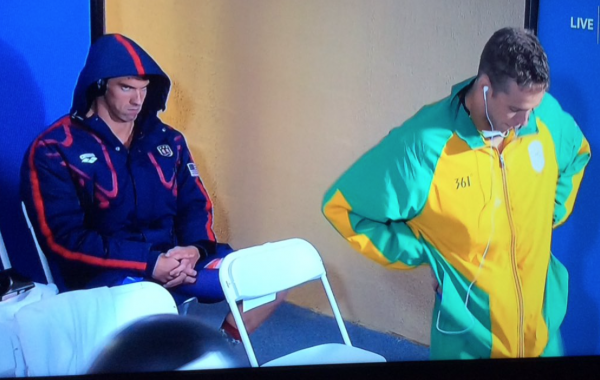 8.10 Frank Bruni in the Times: "I fear that with the Olympics, as with so much else, we've let the language of complaint supplant the language of wonder, and there's wonder aplenty here.'
8.9 Donald Trump in Wilmington NC: "Hillary wants to abolish, essentially abolish, the Second Amendment. By the way, and if she gets to pick her judges, nothing you can do, folks. Although the Second Amendment people, maybe there is, I don't know. It would be a horrible day."
8.9 Joe Sheehan in SI.com: "For some, Alex Rodriguez's numbers won't matter. "Cheater!" they'll cry, minimizing his accomplishments due to his confessions of drug use. Perhaps they're right to decide that Rodriguez is somehow different from generations of players who chased every edge before we cared how they did it. Perhaps they're right to dismiss Rodriguez's career in the same week that Ken Caminiti—whose steroids admission in 2002 helped expose baseball's PED problem—is posthumously inducted into the Padres Hall of Fame, and when Dee Gordon, who served an 80-game suspension this year, pushes the Marlins toward a playoff spot. Perhaps they're right to ignore the specifics of Rodriguez's case, to not ruminate about the issues of promised anonymity or stolen evidence or the financial support of criminals that are all a part of his story. Where they're wrong is this: You don't find greatness in a pill, or a syringe or a cream. There's never been a substance created that will give you 696 home runs and 3,114 hits. Alex Rodriguez is one of the greatest players who ever lived, and neither the mistakes he made nor our particular generation's obsession with them will change that."
8.8 Leonard Cohen, to his onetime lover Marianne Ihlen, inspiration for songs "So Long Marianne" and "Bird On a Wire." as she lay dying in July: "Well Marianne, it's come to this time when we are really so old and our bodies are falling apart and I think I will follow you very soon. Know that I am so close behind you that if you stretch out your hand, I think you can reach mine. And you know that I've always loved you for your beauty and for your wisdom, but I don't need to say anything more about that because you know all about that. But now, I just want to wish you a very good journey. Goodbye old friend. Endless love, see you down the road.''
8.8 Paul Krugman in the Times: "The most important thing we need is sharply increased public investment in everything from energy to transportation to wastewater treatment. How should we pay for this investment? We shouldn't — not now, or any time soon. Right now there is an overwhelming case for more government borrowing. Investing more in infrastructure would clearly make us richer. Meanwhile, the federal government can borrow at incredibly low interest rates: 10-year, inflation-protected bonds yielded just 0.09 percent on Friday. . . .this investment might well pay for itself even in purely fiscal terms. How so? Spending more now would mean a bigger economy later, which would mean more tax revenue. This additional revenue would probably be larger than any rise in future interest payments."
8.8 Daniel Drezner in the Post: "Hillary Clinton might be a good leader, but she is not a conventionally great politician. When she has to lie — which, again, is not all that often — she doesn't look good doing it. In contrast to Trump, she's painfully aware of her relationship with the truth. Between Clinton and Trump, Clinton is the bigger and badder liar — but that's because Clinton cares enough about the truth to know a lie when she tells one.''
8.8 Ibtihaj Muhammad, female American Muslim Olympic fencer, on CNN: "I think Trump's words are very dangerous. When these types of comments are made, no one thinks about how they really affect people. I'm African-American. I don't have another home to go to. My family was born here. I was born here. I've grown up in Jersey. All my family's from Jersey. It's like, well, where do we go?"
8.8 James Hamblin in The Atlantic: "To suggest that straight, stereotypically masculine men are in any way marginalized in American society—much less to compare their perceived plight to that of homosexual Americans a decade ago—is, by objective measures, absurd. Still the foundation of Trump's base is white men without a degree. The dominance of white men is being challenged on many fronts, including the code by which they fraternized with and identified one another. If their dominance is shrinking, it is a regression toward parity, an undoing of entrenched inequality, but not an outright attack. Not oppression. The fact that Trumps impetuousness and thoughtlessness are rewarded rather than punished only further evidence the boys-will-be-boys system. His weakness is not in "speaking without thinking," as apologists have offered, but in being unable not to speak when challenged. Trump is both a product of a masculine culture and a beneficiary of its musky tenets. Rather than criticize him or lose faith, his fans forgive and apologize for his words.
8.7 Donald Trump, speaking about Hillary Clinton in New Hampshire, as reported by The Washington Post: "She is a totally unhinged person. She's unbalanced. And all you have to do is watch her, see her, read about her. She will cause — if she wins, which hopefully she won't — the destruction of our country from within." The GOP presidential nominee called Clinton unstable and incompetent several times throughout the rally. At one point, he also called her "Hillary Rotten Clinton. "I think the people of this country don't want somebody that's going to short-circuit up here. Not as your president, not as your president. Now you tell me she looks presidential, folks. I look presidential."
8.5 Michael Morell, former CIA official, in The New York Times: "The dangers that flow from Mr. Trump's character are not just risks that would emerge if he became president. It is already damaging our national security. President Vladimir V. Putin of Russia was a career intelligence officer, trained to identify vulnerabilities in an individual and to exploit them. That is exactly what he did early in the primaries. Mr. Putin played upon Mr. Trump's vulnerabilities by complimenting him. He responded just as Mr. Putin had calculated. Mr. Putin is a great leader, Mr. Trump says, ignoring that he has killed and jailed journalists and political opponents, has invaded two of his neighbors and is driving his economy to ruin. Mr. Trump has also taken policy positions consistent with Russian, not American, interests — endorsing Russian espionage against the United States, supporting Russia's annexation of Crimea and giving a green light to a possible Russian invasion of the Baltic States. In the intelligence business, we would say that Mr. Putin had recruited Mr. Trump as an unwitting agent of the Russian Federation.
8.4 David Ignatius in The Washington Post: "People will resist abandoning a false belief unless they have a compelling alternative explanation. That point was made in an article called "The Debunking Handbook," by Australian researchers John Cook and Stephan Lewandowsky. They wrote: "Unless great care is taken, any effort to debunk misinformation can inadvertently reinforce the very myths one seeks to correct." Screaming back at Trump for these past 12 months may have been satisfying for his critics, but it hasn't dented his support much. What seems to be hurting Trump in the polls now are self-destructive comments that trouble even his most passionate supporters. Attempts to aggressively "correct" his remaining fans may only deepen their attachment.''
8.4 Charles Krauthammer in the Post: "This is beyond narcissism. I used to think Trump was an 11-year-old, an undeveloped schoolyard bully. I was off by about 10 years. His needs are more primitive, an infantile hunger for approval and praise, a craving that can never be satisfied. He lives in a cocoon of solipsism where the world outside himself has value — indeed exists — only insofar as it sustains and inflates him. Most politicians seek approval. But Trump lives for the adoration. He doesn't even try to hide it, boasting incessantly about his crowds, his standing ovations, his TV ratings, his poll numbers, his primary victories. The latter are most prized because they offer empirical evidence of how loved and admired he is. Prized also because, in our politics, success is self-validating. A candidacy that started out as a joke, as a self-aggrandizing exercise in xenophobia, struck a chord in a certain constituency and took off. The joke was on those who believed that he was not a serious man and therefore would not be taken seriously. They — myself emphatically included — were wrong.''
8.4 Fareed Zakaria in the Post: "Trump is many things, some of them dark and dangerous, but at his core, he is a B.S. artist.''
8.3 Liz Mair on CNN: ""This is his message. His message is being a loudmouthed dick, basically, and going out there and offending people and then engaging in an airing of grievances."
8.3 Clint Eastwood in Esquire: " He's onto something, because secretly everybody's getting tired of political correctness, kissing up. That's the kiss-ass generation we're in right now. We're really in a pussy generation. Everybody's walking on eggshells. We see people accusing people of being racist and all kinds of stuff. When I grew up, those things weren't called racist.''
8.3 Greg Sargent in the Post: "Republicans are in a full scale panic today because Donald Trump's candidacy appears to be in chaos. There is talk of an "intervention," inspired in part by Trump's continuing attacks on the Khan family. RNC chair Reince Priebus is described as "very frustrated" and "stressed," because he is "running out of excuses" to offer party bigwigs about Trump's political incompetence and indifference to basic political norms. Republicans are panicking because Trump is frittering away a chance to defeat Hillary Clinton amid "self inflicted mistakes" and "missed opportunities."In other words, if only Trump were not acting in such a crazy manner right now, he'd be on track to having a real shot to beat Clinton, and if Trump just gets a handle on his fleeting bout of bad behavior, he'll be right back in the position of having a good chance to win. An "intervention" just might set that right.But let's entertain another interpretation of what's going on here. Republicans have shifted into a much higher state of Red Alert because Trump's erratic antics are revealing just how reckless their decision to nominate him really was, and how reckless their continued support for him really is. In other words, Trump is now threatening to damage the party in far worse ways than Republicans had bargained for, because he's revealing in inescapably clear terms the real character and qualifications of the person they knowingly nominated to run the country and continue to support for the presidency.''
8.2 Donald Trump: "I'm afraid the election's going to be rigged. I have to be honest."
8.2 Roger Stone: " "I think we have widespread voter fraud, but the first thing that Trump needs to do is begin talking about it constantly. [Trump should start saying this:] "If there's voter fraud, this election will be illegitimate, the election of the winner will be illegitimate, we will have a constitutional crisis, widespread civil disobedience, and the government will no longer be the government." I think he's gotta put them on notice that their inauguration will be a rhetorical, and when I mean civil disobedience, not violence, but it will be a bloodbath."
8.2 Washington Post: "A study published Tuesday in the journal Archives of Sexual Behavior finds that younger millennials — born in the 1990s — are more than twice as likely to be sexually inactive in their early 20s as the previous generation was. Even older millennials are more sexually active than this younger group is. Recent research also shows that, overall, millennials — people born between the early 1980s and 2000 — have fewer sexual partners than baby boomers and those in Generation X, the group immediately preceding them.''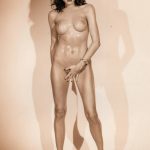 8.1 Photos of a nude Melania Trump published in the New York Post
8.1 Donald Trump on Fox News: "The New York Times is so unfair. I mean they write three, four articles about me a day. No matter how good I do on something, they'll never write good. They don't write good. They have people over there, like Maggie Haberman and others, they don't — they don't write good. They don't know how to write good."
8.1 Derek Thompson in The Atlantic: But the private sector is shifting toward work that has historically been done by women. There are four occupations expected to add more than 100,000 jobs in the next decade: personal care aides, home health aides, medical secretaries, and marketing specialists. All of them currently have more female workers than male. "Some of the decline in work among young men is a mismatch between aspirations and identity," Lawrence Katz, a professor of economics at Harvard University, told me last year. "Taking a job as a health technician has the connotation as a feminized job. The growth has been in jobs that have been considered women's jobs—education, health.
8.1 Gov: "That was a top echelon speech."