• REVIEWS OF Commander Will Cushing
``Malanowski's nimble prose serves the action sequences perfectly, and gives Cushing's battles the weight and presentation they deserve. At these points, the book no longer feels like the typical historical read, but has the page-turning excitement of a thriller.  Malanowski ends with a brief reflection on what this hero could have become had lived beyond his 32 years. Readers will admire both Cushing's daring and genius as well as the author's talent for capturing the full scope of them." – Publisher's Weekly, starred review
``Like many war stories, the tale of the young and rebellious Commander Will Cushing was tucked away into the dusty archives of history. Jamie Malanowski skillfully resurrects Cushing's courageous adventures on the high seas during the Civil War in this action-packed page-turner. Beginning with Cushing's youthful pranks at the U.S. Naval Academy and culminating with his triumphant sinking of the Confederate CSS Albermarle, Commander Will Cushing is a must-read about a daring young soldier whose extraordinary achievements have earned him a place alongside America's most celebrated naval heroes." -- Senator John McCain
"Jamie Malanowski has brought to life one of the great, little-known swashbucklers of the Civil War.  A fun, exhilarating rush of a read, this is history told with flair and panache."— Nathaniel Philbrick, author of Sea of Glory, The Mayflower and Bunker Hil
"With a skillful account of the Cushing brothers' careers, Jamie Malanowski has created a well-written and often thrilling story that is as engaging as an action novel. His book is highly recommended." — Patrick Purcell, , author of Civil War News
"A terrific book! It's astonishing to me that I'd never heard of such an astonishing and very American hero. Will Cushing is like a character out of fiction or the movies — charismatic trouble-maker, patriot, half-mad can-do leader of men — and Jamie Malanowski beautifully tells the ripping yarn that was his remarkable life." — Kurt Andersen, author of True Believers
``Commander Will Cushing is a happy combination of one of the Civil War's best tales and a writer whose taut, smart prose is up to the task of writing it. In Malanowski's hands the narrative just drives forward, carrying you with it. A superbly entertaining book on a subject that somehow everyone else overlooked.'' --S.C. Gwynne, author of Rebel Yell
``Jamie Malanowski restores Cushing to his proper place in the first rank of American naval heroes in theis fast-paced, rousing biography that illuminated both Cushing the man and the hero. Gracefully written and admirably nuanced, Commander Will Cushing makes a significant contribution to the naval history of the Civil War.'' -- Peter J. Cozzens, author of Shenandoah 1862
• REVIEWS OF The Coup
"The Coup is utterly entertaining, a smart, very 21st century Washington story where no one is entirely good or evil and the surprise ending is not just a great surprise but witty and believable and altogether satisfying."
—Kurt Andersen, author of Turn of the Century and Heyday
"Jamie Malanowski has written a biting and hilarious satire of the Journalistic-Political Scandal Complex. A hapless president and a hooker. An evil, conniving vice president, and a journalist horny for her next big scoop. They fall in and out of power while they fall in and out of bed. Where does Malanowski come up with this stuff?"
—Paul Begala, CNN contributor and author of
Is Our Children Learning?: The Case Against George W. Bush
"In this sly Washington satire, . . . . Malanowski's portrait of a master political double-dealer is as entertaining as it is scary."
—Publishers Weekly
"Malanowski out-Buckleys Christopher Buckley. . . .The one-man coup is so fiendishly plausible that explaining it would give away the central pleasure of [his] fast-paced and entertaining fable. But even if The Coup didn't offer such machine-tooled plotting, it would be a delight for its punchy dialog and cheerfully sordid characters."
—Kyle Smith, The Wall Street Journal
"Jamie Malanowski's satirical novel will be required reading for C-SPAN watchers. . . [who] will find a knowing dissection of media-political nexus.''
--Susanna Yager, Telegraph.co.UK
``Malanowski's sardonic humour produces some neat one-liners, and makes Pope's masterly manipulation of his fellow politicians seem disturbingly believable.''
--Louis Bayard, The Washington Post
"The plot of The Coup. . . is as far-fetched as [Christopher] Buckley's Boomsday and as wry and knowing as [Jeffrey] Frank's Trudy Hopedale, but with a flavor all its own. It's a sputtering outrageous piece of work that should cause a slew of laughter. It's perfect nonsense sprinkled with bitter truths, much like Spy used to be in those funny, funny years.''
--William Georgiades, New York Post
"With cheerful malice aforethought, Jamie Malanowski takes a scalpel to the soft underbelly of Washington's kings, queens, and other not-so-nobles. If his story seems too bizarre, too improbable, then you haven't been watching the news lately."
—Jeff Greenfield,Senior Political Correspondent, CBS News
"The Coup [is] a Primary Colors for the Bush years, a satirical balance against all the seriousness of today's early presidential campaigning"
— Washington CEO magazine
"Malanowski deftly shoots fat fish in the barrel that is the nation's capital.''
—Kirkus Reviews
"A Carl Hiaasen-style take on Washington's greed and power"
--Entertainment Weekly
"This is excellent timing–a comic political thriller. The vice president thinks he ought to be president, and has worked out an elaborate, spectacularly complicated and clever scheme to create a scandal that will absolutely require the president to resign. Before we're finished, this witty romp will have left almost nobody standing–not the White House, and certainly not the Washington press corps. If you're good and sick of politics (with still a year of presidential campaigning facing us), clear your palate with a long cold draught of satire."
--Claire Ernsberger, the Sullivan County [NY] Democrat
"If you revere all things Washington, including the `public servants' of our universe, find something else to read. But if you like a large dash of cynicism in your fictional reading, here's the place to apply. The Coup is a breezy read. The pages dance by, buried under a snowpile of skepticism about the characters who run the nation.''
--Gene Smith, The Buffalo News
"Very enjoyable!''     —Caleb Wilson, Astrobolism
• REVIEWS OF The Pentagon Wars, 1998
"The Pentagon Wars is a remarkable TV movie. To take a dry subject like this -- telling you more than you ever wanted to know about the making of the Bradley Fighting Vehicle (BFV) -- and turning it into something so gripping, such a patriotic, yet antiwar story, is enough to warm the cockles of Jane Fonda's heart. It's also enough to raise the blood pressure of any conservative budget-balancing-minded, concerned taxpayer who can't help but be fascinated by how the Pentagon. . . managed to turn a simple troop transport, estimated to cost a million and a half dollars, into a vehicle that took only 17 years and cost $14 billion - just for development. This movie is perhaps an even more towering achievement than Barbarians at the Gate." --Marvin Kitman, Newsday
"You can't help but ponder whether Pentagon folk will see the
amusement in the amusing HBO black satire "The Pentagon Wars."
On next thought, when you remember that the Pentagon is ours,
the show isn't that amusing. This is a crazy, uncautionary tale about the United States spending $14 billion during 17 years to develop, redevelop and re-redevelop the Bradley Fighting Vehicle, a tank-type troop transport that finally proved to be a disaster. It's the wonderful stuff of buffoonery. . . . Based on the real-life adventures from a book by the same name by real-life, now-retired Col. James G. Burton . . . .[the screenplay by] writers Jamie Malanowski and Martyn Burke don't make as much of a mockery of the military as the military makes of itself." --Irv Letofsky, The Hollywood Reporter
"Deftly directed by Richard Benjamin and incisively acted by a cast that includes Kelsey Grammer and Cary Elwes, The Pentagon Wars is a savvy satire of military spending--an epic tale of boys and their toys. Debuting on HBO tonight, it's a triumph for that cable outlet on the order of 1993's Barbarians at the Gate." -- Daryl H. Miller, Los Angeles Times
"After watching The Pentagon Wars, one part of me - the dove part - feels vindicated for all the years I've complained about a military machine out of control, while another part - the federal taxpayer - is just plain ticked off." --Valerie Kuklenski, Los Angeles Daily News
"Believe it or not, The Pentagon Wars is the real thing. You won't believe it when you see it tonight on HBO. But remember, when you're laughing your sides off, this hilariously good joke is a seriously bad joke on us." --Ann Hodges, The Houston Chronicle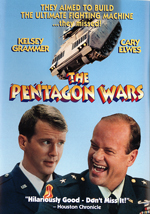 • REVIEWS OF THE PRODUCTION OF Loose Lips AT THE TRIAD, MAY 1995
"[The] thinking person's answer to shows like TV's Bloopers and Practical Jokes. . .is a smirky series of profiles in fatuity, enacted by a young eager cast under the chipper direction of Martin Charnin." -- Ben Brantley, The New York Times
"Very funny" -- Roy Sander, Backstage
"Unspeakably dull" --Wayman Wong, New York Daily News
"The shaping hand of art is sorely absent" --Jan Stuart, Newsday
"A classic Bad Idea for a Show" --D.L. Lapidus, The Westsider
• REVIEWS OF THE PRODUCTION OF Loose Lips AT THE SANTA MONICA PLAYHOUSE, OCTOBER 1995
"[The] barbed comedy revue. . . is a hilarious tour de farce. . . .Anyone with a love of satire should see this clever, trenchently sardonic show"--Paul Birchall, Los Angeles Reader
"Take three sophisticated New York editors, add a half dozen young actors, top it off with a Broadway director who are all taking aim at public figures, and you have an evening in which the famous and powerful are exposed for the silly fools they sometime are." --Bruce Feld, Dramalogue
"Quite funny''--Christopher Meeks, Daily Variety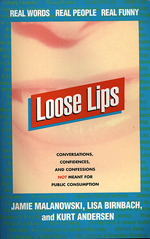 • REVIEWS OF Mr. Stupid Goes to Washington, 1992
"At its best, the cautionary tale is so blindingly funny that it's impossible to laugh and still keep one's eyes on the page; at its worst, it's rompingly absurd. Malanowski wickedly reduces statecraft to constituent elements of pomposity, puerility and payback, while he keeps the scenes in the politicians' inner sanctums always vaguely familiar, equal parts National Public Radio and Saturday Night Live . This gifted satirist's delightful election-year broadside is as accurate as it is preposterous." --Publishers Weekly
"Savagely funny.'' --Howard Means, Washingtonian
"An Advise and Consent-Animal House combo, with a touch of Bananas thrown in" --Constance Casey, Los Angeles Times
"Hilarious.'' --Clark Humphrey, The Seattle Times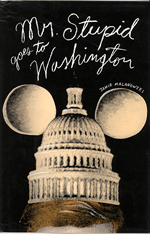 • REVIEWS OF Spy High, 1991
SPY HIGH: A MAKE-BELIEVE YEARBOOK OF THE RICH AND FAMOUS Jamie Malanowski, Susan Morrison, and the editors of Spy (Doubleday, $10) Check it out. The faculty: Mike Dukakis, chairman, driver's ed.; Helen Gurley Brown, home economics; Liz Smith, cafeteria; Ruth Westheimer, nurse; G. Bush, principal. It goes on like that, plus plenty of the parochial New York jokes that people outside the city love about Spy. B+
--Entertainment Weekly
• REVIEWS OF Killed, 2004
"I thought "Mein Doll," a 2001 Jamie Malanowski New Yorker profile of a man who makes G.I. Joe-sized Nazi figurines, was funny." -- Catherine Siepp, National Review Online
"There's some pretty good and even damn fine journalism among the 24 contributions, ranging from Betty Friedan to Jamie Malanowski (on a pervert who makes Dr. Mengele dolls "for the serious collector.")" -- New York Observer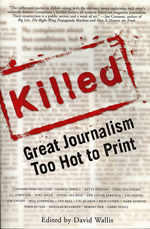 • ARTICLES, INTERVIEWS AND APPEARANCES
Open Mouth, Insert Foot, by Anthony Haden-Guest. The New Yorker, May 29, 1995
Fame's Funny Foibles, by Janice Arkatov, Los Angeles Times, October 29, 1995
Bloopers, Bleepers and Blunders, by Matthew Flamm, Entertainment Weekly, September 22, 1995
Guest, The Lisa Birnbach Radio Show, July 17, 2007
Guest, Playboy Satellite Radio, July 19, 2007
Guest, The Book Squad, with Karyn Langhorne and Wendy Coakley-Thompson, WMET-AM, Washington DC, July 20, 2007.
Guest, The Kojo Nnamdi Radio Show, WAMU-AM, Washington DC, July 24, 2007
Guest, Night Talk, hosted by Mike Schneider, Bloomberg Television, August 7, 2007
Guest, What's Happening in Briarcliff, hosted by Donald Wilde, Ossining TV, August 16
Guest, About Writing, hosted by Ben Cheever, PC-TV
Guest, The Lewis Burke Frumkes Show, WPAT-AM New York, September 23, 2007
Briarcliff Author Writes Satire on D.C. Dirt, by Rob Marchant, The Journal News, September 30, 2007
Interview by Marc Weisblott of Toronto's eyeweekly.com about Playboy, May 13, 2008
Guest, Word of Mouth, hosted by Virginia Prescott, New Hampshire Public Radio, September 21, 2010
Guest, The Takeaway, hosted by John Hockenberry National Public Radio, November 24, 2010Guest, The Takeaway, hosted by John Hockenberry National Public Radio, April 12, 2011
Guest, Civil War Talk Radio, hosted by Gerry Prokopowicz, April 15, 2011
Civil War: How The Era's Obamas and Palins, And Bad Weather, Shaped Calamity, by Michael Humphrey, Forbes.com, June 10 2011
Briarcliff Author Tells Civil War Story In New Way, by Tien-Shun Lee, Daily Briarcliff, July 3, 2011
Briarcliff Author Explores the Civil War in a New Way: Jamie Malanowski's book delves into a less well-known time frame, by Sarah Studley, Pleasantville-Briarcliff Manor Patch, July 19, 2011
Guest, Conversations From Studio B, WOUB Public Media, Athens, Ohio, hosted by Jim Fuller and Bill Walker, August 14, 2011
Guest, with Matthew Fenton, on the New York Talks segment of the BBC Five Live Radio program Up All Night, with host Dotun Adebayo, September 21, 2013.